Icelandair Group has revealed the extent of the coronavirus impact on the second quarter, indicating an operating loss of around $100-110 million.
The company says its revenues for the three-month period to 30 June were down by 85% to some $60 million.
Its operating loss in the same quarter last year stood at $24 million – on revenues of $403 million – owing to the substantial negative effect of the Boeing 737 Max grounding.
Icelandair Group says it has entered the "final stages" of negotiations with stakeholders to enable it to issue new shares and complete its financial restructuring.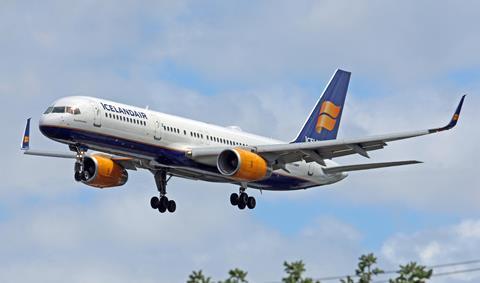 The company, as part of the restructuring, has been forging new collective agreements with pilots, mechanics, and cabin crew – although the cabin crew pact has yet to be formally approved.
Icelandair Group expects "fully documented" agreements with all the remaining stakeholders to be completed this month, and is still planning to commence the new share offering in August.
"The group took swift actions at the beginning of the pandemic to minimise operational expenses and cash outflow and continues to monitor these closely," it states.
But the second quarter performance – which will be detailed on 27 July – was still "significantly affected" by the crisis, it adds.
Icelandair Group's cash and cash equivalents amounted to $154 million at the end of the second quarter.
Over the course of the first quarter this year the company's operating loss reached $208 million.