Icelandair Group has turned in a full-year operating profit of $18.8 million, after keeping its fourth-quarter operating loss to $16.7 million.
It generated revenues of $1.26 billion last year including $291 million in the final quarter, during which its capacity had recovered to being 5% down on pre-crisis levels.
Icelandair Group says its fourth-quarter performance was its best since 2015.
Its full-year expenditure reached $1.12 billion with fuel costs accounting for one-third of expenses, compared with 20% the year before, owing to a 77% rise in fuel prices.
Higher finance costs meant the company broke even at pre-tax level and ended the year with a net loss of $5.8 million.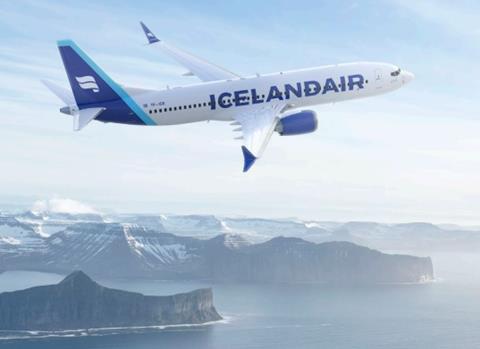 But Icelandair Group insists its prospects for 2023 are "favourable", pointing out that it will operate the largest passenger flight schedule in its history – comprising 54 destinations, including four new ones.
"Near-term booking flow is strong, and booking patterns are gradually returning to normal," it states.
Icelandair Group will use 40 aircraft on its summer route network – an increase of five.
"Significant [earnings] improvement shows that our business model has proven its worth yet again," says chief executive Bogi Nils Bogason.
"We are back on track, stronger than ever."
Icelandair Group says it experienced a "turnaround year" in 2022, using flexibility to increase capacity rapidly in order to meet demand recovery.
The company increased its Boeing 737 Max fleet to 16 aircraft last year, after taking delivery of seven of the type.
It states that the "steep" fleet modernisation is evidence of a commitment to reducing carbon emissions.
Icelandair Group aims to bring in another four 737 Max jets this year.
Bogason says the effort to establish a cargo hub in Iceland will provide "great opportunities", adding that the freight operation – which was profitable last year – has been "integral" to the company's recovery.
It is introducing a second Boeing 767-300 freighter to its fleet in the first quarter of this year.
"Our operating environment will remain challenging this year with inflation and increased salary cost," admits Bogason.
"We are, however, confident that people will continue to prioritise travel and there will be great opportunities for Iceland as a destination as we see reflected in our near-term booking flow."
Icelandair Group is forecasting an EBIT ratio of 4-6% for 2023, compared with 1.5% for 2022.