Icelandair is to lease another pair of Boeing 737 Max jets to raise its capacity for the summer season, taking the aircraft from Dubai Aerospace Enterprise.
The airline had indicated, last October, that it was considering adding up to three more 737 Max 8s to its fleet.
Icelandair has been receiving Max 8s and 9s from an order for 12, and deliveries are nearing completion.
But it intends to raise the fleet to 14 ahead of the summer with the extra pair which are due to be delivered from Boeing in spring.
"With favorable conditions in commercial aircraft markets, and the continued ramp-up of our route network, we saw an opportunity and need to expand our fleet," says Icelandiar Group chief Bogi Nils Bogason.
"The aircraft have proved to perform even better than expected, both in terms of flight range and fuel-efficiency."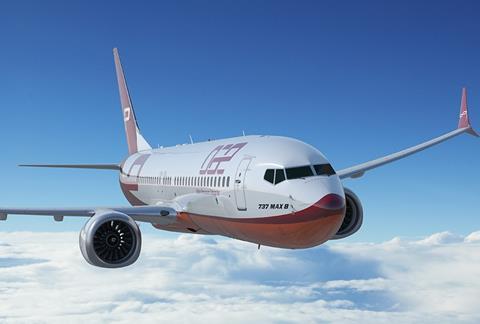 Icelandair originally ordered 16 737 Max jets but cut the agreement back to 12 in 2020, under a settlement with Boeing to compensate for the two-year grounding of the type.
Placement of the two aircraft with Icelandair will complete the allocation of 14 737 Max jets ordered by Dubai Aerospace Enterprise nearly a year ago.
Twelve of these aircraft have been assigned to Aeromexico, says the lessor. Deliveries began in October 2021.
"We are very pleased to see the pace of recovery in air travel and the associated demand for these new-technology, fuel-efficient aircraft," says Dubai Aerospace Enterprise chief Firoz Tarapore.
Dubai Aerospace Enterprise has built a portfolio of some 425 owned, managed or committed aircraft, including 41 acquired last year. It has 30 737 Max 8 jets among its total of 153 Boeing-built models.