Icelandair Group is to take its fleet of Boeing 737 Max jets to 20 through a new agreement to lease additional aircraft.
It has entered a pact with Singapore-based lessor BOC Aviation for a long-term operation lease of two 737 Max 8s.
Icelandair Group says the aircraft will be delivered from Boeing in autumn 2023.
The airline originally ordered 16 of the type from Boeing – a mix of Max 8s and Max 9s – before cutting back the order to 12.
But it has since been rebuilding its commitment to the Max.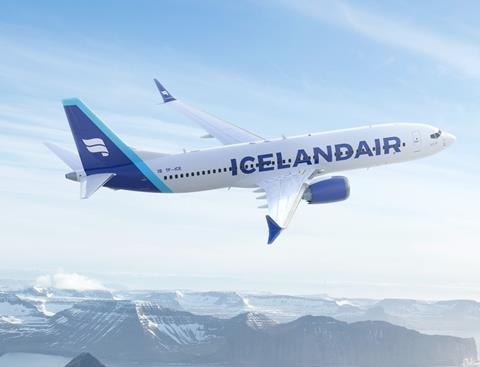 The BOC Aviation lease follows a recent separate letter of intent by the company to purchase four additional 737 Max jets which will be introduced this year.
Icelandair had also previously committed, earlier this year, to leasing a pair of Max aircraft from Middle Eastern company Dubai Aerospace Enterprise.
"The Max has proven to be a good fit to our route network and its fuel efficiency contributes positively to our efforts of reducing the carbon emissions from our operations," says Icelandair Group chief Bogi Nils Bogason.
"This addition to our fleet allows us to further increase our services by adding new destinations and increasing frequency to our current destinations."
Icelandair will operate from its Reykjavik base to 44 destinations in Europe and North America this summer.