Icelandic budget start-up carrier Play is seeking to raise IcKr3.9-4.3 billion ($32-35 million) from an initial public offering, with its shares listing on a small-company stock market.
Play is launching its first flights on 24 June, coinciding with the opening of its share subscription period.
The offering will comprise two tranches, says the carrier.
Its 'Book A' tranche will be limited to the equivalent of €8 million – around IcKr1.15 billion – while the 'Book B' tranche is intended for larger investors and aims to raise a further IcKr2.84-3.16 billion.
Play expects the offer period will close on 25 June and the shares will then be admitted to the stock market. Trading will begin around 9 July.
The listing will take place on the Nasdaq First North Growth Market Iceland, which is not a regulated main market but one intended for small growth companies and featuring a less-extensive set of regulations.
Play documentation points out that, as a result, its listing on the First North exchange might carry higher risks for investors than a main market issuer.
But it states that the First North listing is an "important milestone" for the airline, adding that it will "benefit the company's future development".
"[Play] considers the listed environment to be exciting and challenging and believes that the listing will create opportunity to grow and mature the company´s culture," it says, adding that listing demands a reputation for "discipline, transparency and professionalism".
"Listing of shares will provide better access to capital markets and enable additional investors to take part in the company's future growth and value creation," the carrier states.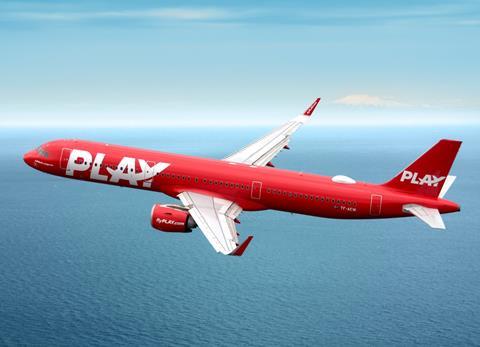 Play was founded in June 2019, applying for an air operator's certificate in the same month, and subsequently secured €2 million in funding from an investment group called FEA in December of that year.
FEA became the sole shareholder of the carrier in May 2020.
Play launched the first part of a financing round in March this year, initiating a private placement with Arctica Finance. This aimed to raise $35 million but was ultimately completed with a total transaction of $47 million in new equity.
Its current capital structure comprises just over 478 million shares across 63 shareholders. Pension fund Birta Lifeyrissjodur is the largest individual shareholder with 12.55%, followed by investor Fiskisund at 11.86%.
The initial public offering will involve issuing up to 221.9 million additional shares – comprising 64 million for the 'Book A' tranche and 157.9 million for 'Book B'.
Play says the proceeds are intended to enhance the company's financial position and working capital, supporting growth and ramp-up. It adds that they will allow "more flexibility" in terms of the ramp-up timing, enabling it either to accelerate or delay the plan.
The airline was granted its air operator's certificate on 15 May.
Its initial network features several destinations in Europe, to be served from Reykjavik with an initial fleet of three Airbus A321neos. Play intends to expand the fleet to six aircraft and open services in North America, allowing it to offer a transatlantic bridge.