Airbus opened the Dubai air show with a powerful recovery signal by unveiling a huge order for 255 aircraft to be taken up by the airlines of Indigo Partners.
Its agreement for single-aisle aircraft appears to quash any suggestions, voiced ahead of the show, that the air transport crisis might mark the end of triple-figure orders for the foreseeable future.
The agreement, for aircraft across the A321neo range, provides an injection of optimism for the airframer which – like the whole of the aerospace sector – has been battling to contain the impact of the pandemic on its operations.
Indigo Partners has several component low-cost carriers including Central European budget giant Wizz Air, US-based Frontier Airlines, Chile's JetSmart and Mexico's Volaris.
Executives from all the carriers were present – Wizz and Frontier's chiefs at the show, those of JetSmart and Volaris joining virtually.
Airbus says 102 aircraft are destined for Wizz, among them 27 of the long-range A321XLR, 91 for Frontier, 39 for Volaris and 23 for JetSmart. JetSmart will take two A321XLRs.
Wizz Air head Jozsef Varadi said the aircraft would advance the carrier's plans to build a 500-aircraft fleet by the end of the decade. He adds that the airline's new Abu Dhabi operation will probably be one of the recipients of the A321XLR.
Indigo Partners was previously behind another record order, for 430 A320neo-family jets, unveiled at the Dubai air show in 2017. Wizz Air signed for over 140 of those aircraft while Frontier took over 130. The new order, says Indigo, does not replace aircraft from the previous agreement.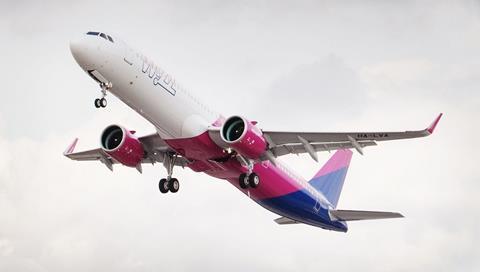 Airbus took orders for only 27 aircraft in the last nine months of 2020, as the pandemic – which emerged in March of that year – put a stranglehold on the industry.
The airframer slashed its A320-family production rate by a third, to just 40 aircraft per month, and cut back long-haul output as well.
But its A320-family activity has been picking up, accounting for 257 of the 292 aircraft ordered over the first 10 months of 2021.
Indigo Partners' order underlines the demand for the Airbus single-aisle type, reinforcing chief executive Guillaume Faury's justification for pursuing increased rates of production – Airbus is looking to take monthly output to 65 aircraft by summer 2023, and is exploring the feasibility of higher rates of 70 or 75.