Indian low-cost carrier IndiGo sharply narrowed its first quarter net loss to Rs10.6 billion ($134 million), from a net loss of Rs31.7 billion in the first quarter of its 2023 financial year.
The profit improvement came on the back of record quarterly operational revenues of Rs129 billion, which more than quadrupled from a year earlier, says the carrier in its financial results for the three months ended 30 June.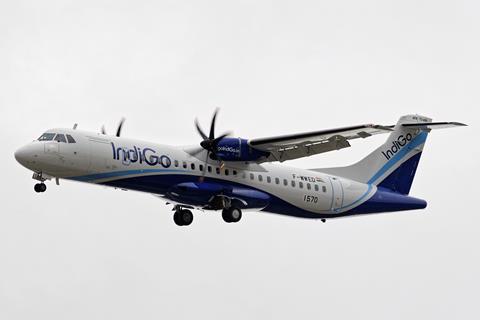 "Our revenue performance this quarter was impressive," says chief executive Ronojoy Dutta.
"We reported the highest ever revenue generated by the company and thereby produced profits at an operational level. However, cost pressures on fuel and foreign exchange prevented us from translating this strong revenue performance into net profitability. While our financial performance in the second quarter will be challenged by weak seasonality, the long-term revenue trend remains strong."
Before foreign exchange losses are considered, the carrier swung to a profit of Rs3.6 billion for the quarter, compared with a loss of Rs28 billion a year earlier.
Fuel costs for the quarter grew nearly fivefold to Rs60 billion.
On the operational front, ASKs more than doubled year on year, while RPKs more than tripled. Load factors for the quarter were 79.6%, up 20.9 percentage points year on year.
CASK fell 8.5% year on year, while CASK ex-fuel fell 35.1%.
As of 30 June, IndiGo operated 281 aircraft, comprising 35 A320s, 146 A320neos, 65 A321neos, and 35 ATRs – an increase of 6 aircraft over the previous quarter.