Indian low-cost carrier IndiGo saw operating losses widen to INR14 billion ($187 million) for its second quarter ended 30 September, compared with an operating loss of INR12 billion a year earlier.
On the back of an improving Covid-19 situation in India, revenue nearly doubled to INR58 billion, says IndiGo in its results statement.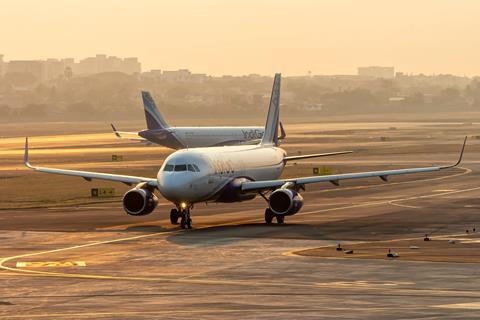 The carrier also saw net losses widen to INR14.4 billion, compared with INR12 billion a year earlier.
"The reduction in Covid-19 cases in the country, increased pace of vaccination, and relaxation of the testing norms by the various state governments has helped to stimulate demand during September 2021 quarter," says chief executive Ronjoy Dutta.
"In line with the increased demand, the Government initially raised the domestic capacity caps from 65% at the end of the June to 85% mid of September and recently removed these capacity restrictions altogether."
In addition, international flights increased, which helped boost revenues.
For the quarter, ASKs jumped 78.3% over the second quarter of 2020, when the first wave of the coronavirus pandemic was still being felt, and RPKs leapt 94.9%. Load factors improved 6.1 percentage points to 71.1%, and the airline's yield rose 9.6%.
Cash and cash equivalents stood at INR13.7 billion as of 30 September, up from INR13 billion a year earlier.
Dutta, however, warned that fuel prices continue to rise. While revenues are improving, costs are a concern.
"Now that it looks like we are finally emerging out of the Covid crisis, we are turning our attention back to the two key principles of our business model, namely: continue to keep our costs down and grow rapidly," says Dutta.
"To summarise, revenues are fast returning to normalcy, fuel prices are worrisome, we need a rapid return to profitability in order to strengthen our balance sheet and we are excited about the growth opportunities that lie ahead of us."