Russian carrier IrAero is seeking support to resolve the problem of operating Irkut Superjet 100s given the effect of sanctions on engine supply to the type.
The Siberian airline has 10 Superjets in its fleet. The type is fitted with SaM146 engines, produced by the PowerJet joint venture between France's Safran and Russia's Saturn, a division of United Engine.
But IrAero general director Yuri Lapin recently communicated concerns over the matter of servicing the engines to Irkutsk region governor Igor Kobzev.
He says that, while Saturn has the "competence and technical capabilities" to repair the Superjet engines, it faces legal limitations.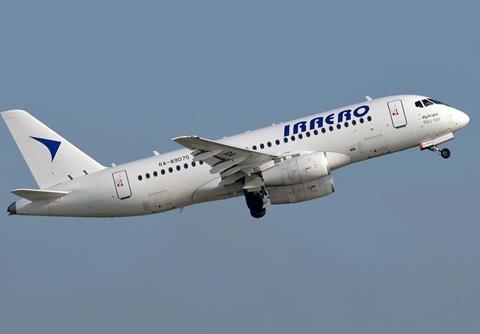 "Resolution of this issue, in our opinion, is possible at a higher, government level," he adds, claiming the establishment of a legal basis for Saturn to service the powerplants will "positively affect" the operations of Russian carriers with Superjets in their fleets.
Lapin has clarified the intention of his correspondence with Kobzev after its contents became public, with outlets – notably RBC – reporting that he told Kobzev that Superjet operations might have to be halted if engine maintenance could not be conducted as a result of sanctions.
RBC also reports that three other Superjet operators told the publication about similar problems with servicing engines owing to the restrictions.