Iraqi Airways has taken delivery of a Boeing 737 Max 8, the first of the re-engined variant in the flag-carrier's fleet.
The twinjet (YI-ASL) departed Seattle for Reykjavik before arriving in Baghdad, the Iraqi capital, on 26 February.
Iraqi Airways says it held a ceremony marking the aircraft's introduction, attended by transport minister Razzaq Al-Saadawi. Images of the event indicate the aircraft is configured in a two-class layout.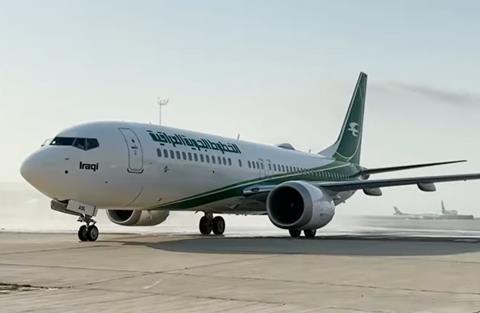 Al-Saadawi stated during the ceremony that schedules have been arranged for delivery of remaining aircraft under the contract.
Boeing lists 10 737 Max jets as having been directly ordered from the airframer in 2017.
Al-Saadawi added that Iraqi Airways is continuing to modernise its fleet, in accordance with a government programme, and is fully committed to securing the lifting of European restrictions on the airline.
Iraqi Airways remains on the European Commission airline blacklist, following its addition in 2015, although the carrier is permitted to use wet-leased aircraft from eligible operators.