Israeli flag-carrier El Al and United Arab Emirates operator Etihad Airways are to discuss closer ties which could include codesharing on their networks, as well as co-operation in maintenance and freight services.
The two airlines have signed a memorandum of understanding to explore closer ties, following the normalisation of diplomatic relations between the UAE and Israel and the plans to open services between Abu Dhabi and Tel Aviv.
Etihad Airways is opening a daily link on the route from March next year.
Codesharing between the Arab and Israeli airlines – a situation which would have seemed highly unlikely a few months ago – will be among the "deeper co-operation" subjects to be discussed, says Etihad.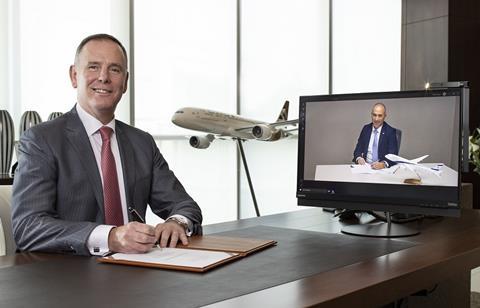 The talks will also cover reciprocal frequent-flyer programmes while the airlines' maintenance and cargo arms will examine optimisation of engineering and freight flows.
"This [memorandum] is only the start and we believe that together, the two flag-carriers will be able to provide our mutual customers with the best possible product and service," says outgoing El Al chief Gonen Usishkin.
"Already, the common goals we have outlined speak for the success of our future co-operation."
Etihad Aviation Group chief Tony Douglas says the preliminary agreement is the "foundation" of a future "strong, ongoing relationship" between the airlines' hubs.
The Abu Dhabi carrier adds that the agreement features plans for the "optimal use" of pilot and cabin crew training facilities.
"[Our] destination management teams will also collaborate to encourage reciprocal inbound tourism to Abu Dhabi and Tel Aviv," it says.