El Al has entered discussions with fellow Israeli carrier Arkia over a possible business combination, the flag-carrier has disclosed.
Under the proposed transaction El Al would acquire Arkia shares in exchange for handing its own securities to Arkia shareholders.
El Al has not confirmed the size of the transaction or the extent of the shareholdings being discussed.
"No memorandum of understanding or binding agreement has been signed between the parties," the carrier stresses, adding that the negotiations have only just started.
"There is no certainty that the potential transaction will be concluded and a binding agreement signed."
It also points out that, even if the tie-up is agreed, it would still need to clear regulatory hurdles.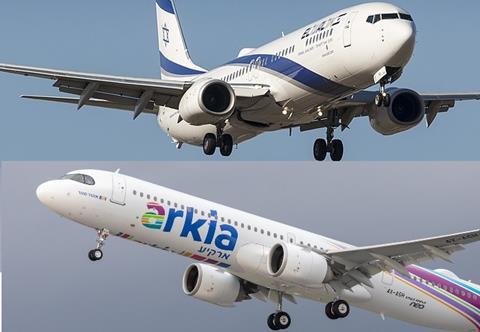 El Al had previously attempted to merge with Israeli operator Israir, through a combination with El Al's Sun D'Or division.
But although the drawn-out discussions eventually resulted in an agreement, the plan was blocked by the Israeli competition authorities in 2018. Israir was sold by its parent company to an investment firm at the beginning of this year, during a bidding process in which a merger with Arkia was mooted.
While El Al is exclusively a Boeing operator, Arkia uses a small fleet of Airbus A321neos and Embraer 195s.
Both airlines have been struggling under the impact of the pandemic.
El Al, which underwent a change of controlling shareholder a year ago, has been trying to stabilise its financial position.
Although the Israeli government has recently offered conditional aid, El Al has been combative, pointing out that the airline is facing "the deepest crisis in its history" and demanding $100 million in compensation for government actions during the pandemic which have affected its business.
The government retorted that the restrictions imposed under legislation to counter the pandemic "does not confer any right to receive compensation".
It told El Al in early October that any assistance would be discretionary, and made on the basis of socio-economic priorities.
The government expressed surprise at El Al's sizeable demand for compensation, reminding the airline that it had previously provided "unprecedented" assistance to the carrier in September last year – without similar aid to other Israeli airlines – and had also resolved to offer further financial support in May this year.
El Al's management, it added, had a "duty" to improve the company's cash-flow situation "as soon as possible", irrespective of the requests for additional assistance.