Israeli leisure carrier Israir has signed with Abu Dhabi's Etihad Aviation Group for Airbus A320 simulator training, further tightening Israeli-United Arab Emirates ties following a recent political normalisation agreement.
Etihad Aviation Training will offer cockpit crew training for Israir, under a pact through which the airline will dry-lease full-flight simulators at Etihad's Abu Dhabi facility.
Training will be conducted by Israir instructors.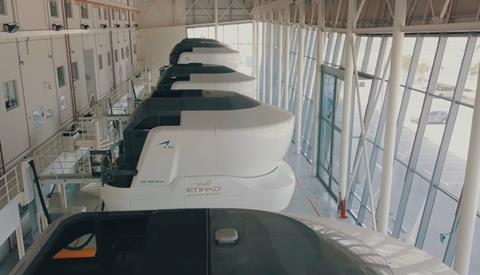 Etihad Aviation Group, which includes flag-carrier Etihad Airways, has been particularly active in cementing Israeli partnerships since the UAE-Israeli normalisation pact, part of the Abraham Accords, was signed in mid-September last year.
Israir has been undergoing a divestment process from its parent company IDB, and is set to be acquired by partnership BGI Investments.
The airline's chief executive, Uri Sirkis, says he had the opportunity – around the time the Accords were signed – to visit the Etihad Aviation Training facility, pointing out that it is just a 3h flight from Israel.
"I believe that the more meeting points we find between the countries, the stronger the tourism movement will be," he adds.
Etihad Aviation Training managing director Capt Paolo La Cava says the simulator agreement will "further commercial opportunities with Israel", following Etihad Airways' decision to open flights to Tel Aviv and discuss possible codeshare and co-operation options with Israeli flag-carrier El Al.
La Cava adds that the organisation is "anticipating further collaboration" with Israir following the pilot-training pact.