ITA Airways blames high fuel costs and ongoing effects of the pandemic for its €486 million ($527 million) full-year net loss in 2022, noting that the result was "consistent" with its "start-up status" in a weak market.
The Italian carrier says its results were "significantly impacted" by the increase in fuel costs following Russia's invasion of Ukraine early last year, and that macroeconomic "deterioration" was responsible for more than €280 million of its losses.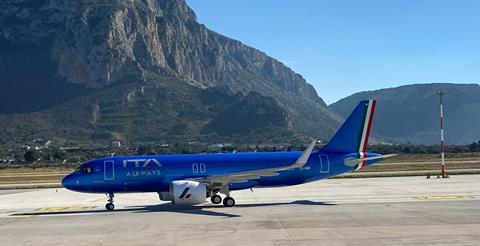 ITA's revenue for the 12-month period ended 31 December rose to €1.58 billion from €90 million the previous year, although the airline did not begin operations until the last quarter of 2021.
The airline carried 10.1 million passengers last year, up from 1.3 million in the final three months of 2021. While the early months of 2022 were hit by lingering effects of the Covid-19 pandemic, ITA says that a recovery in air traffic "became clear" in the second half of the year and its market share increased.
The carrier expects "substantial growth" in revenue and a "significant improvement" in its operating result this year, which it says will be driven by an expansion of its fleet and network.
Lufthansa Group began exclusive talks with Italy's finance ministry in January over its bid to take a minority stake in ITA, with a view to potentially acquiring the remaining shares at a later date.