New Italian carrier ITA is set to bid for the Alitalia brand name through a public tender, as the airline prepares to commence operations in mid-October.
ITA will start services with a fleet of 52 aircraft when it begins flights, rising to 78 in 2022.
The new carrier aims to reach 105 aircraft by 2025 under a five-year plan approved by its board.
While it has been created under the name Italia Trasporto Aereo, the company says it will "participate" in the tender to acquire the Alitalia name.
"[We] believe that this brand is an essential element for the plan," says ITA.
ITA has been cleared to proceed to operations, following the conclusion of discussions between the Italian government and the European Commission which have spanned the last few months.
The new carrier will be permitted to acquire assets from the flight division of Alitalia, and it will contract maintenance and handling activities through public tenders.
"Over the plan period, ITA plans to rely on a single strategic partner for aircraft, and discussions are underway with the main partners," it says, adding that "new generation" aircraft will be added to the fleet from 2022.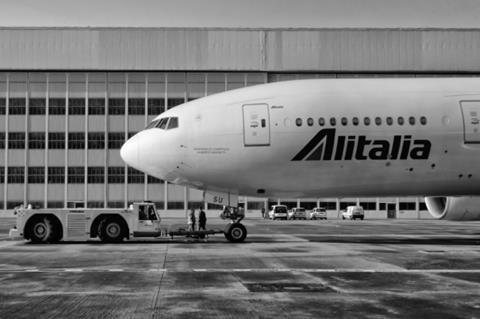 ITA, which starts flights on 15 October, will operate initially to 45 destinations, increasing this figure to 74 by 2025.
Its first long-haul services will include New York, Tokyo, Boston and Miami, expanding to Washington, Los Angles, Buenos Aires and Sao Paulo in summer next year.
It plans to offer services to the primary European Union cities from Rome Fiumicino and Milan Linate airports.
Shareholders are to decide on an initial capital increase for the carrier of €700 million ($827 million) this month.
ITA's business plan predicts break-even by the third quarter of 2023 and a profit of €209 million on revenues of €3.33 billion in 2025.
"I am particularly satisfied with the acknowledgement of the industrial and financial solidity underlying approval of the plan," says ITA chief executive Fabio Lazzerini, adding that it will put ITA "among the best companies in Europe".
"We face the big challenge of launching a successful airline in three months – a challenge to which we will devote all our energy," he says.
ITA's aviation operation will employ some 2,750-2,950 personnel, a figure which will double by 2025. It says up to 2,700 further staff will be taken for ground-handling and another 1,250 for maintenance if the company secures the contracts in these sectors.
European Commission approval of the business plan "certifies the soundness of the project", insists ITA executive chairman Alfredo Altavilla.
"Within 90 days we should complete the transition leading to the take-off of the first aircraft on 15 October."