New Italian carrier ITA has signed a provisional agreement to purchase 28 Airbus aircraft, including 10 A330neos, 11 A320neos and seven A220s.
ITA adds that it will lease up to 56 new Airbuses over the course of its business plan, among them 13 long-haul types – the A350-900 included – and 43 short-haul models.
It has outlined a fleet expansion that will take the airline, set to start operating in mid-October, from an initial 52 aircraft to 105 in 2025.
The airline has signed for the lease of 31 Airbus aircraft from US lessor Air Lease.
ITA says the first new Airbuses are scheduled to enter its fleet from the end of the first quarter next year.
Some 70% of the fleet will be new-generation aircraft by the end of 2025, it adds.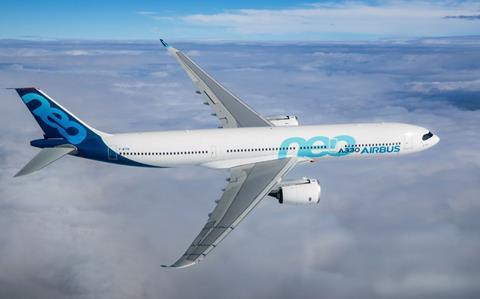 ITA says it will lease Airbus aircraft at "significantly more favourable conditions" than those achieved at Alitalia – the flag-carrier which the new airline will succeed.
The airline adds that it will halve the number of lessors involved in renewing its fleet, to just six, and plans to adopt an environmentally-friendly strategy including the use of sustainable aviation fuel.
"Choosing a single supplier allows us to overcome the limitations on flexibility in crew management and obtain greater efficiency in the supply of aircraft spare parts and maintenance activities," says ITA.
Executive chairman Alfredo Altavilla says the tie-up with Airbus and Air Lease is "crucial" to "jump-start" the company's business plan and build an environmentally-compatible fleet.
Airbus has confirmed the airline's memorandum of understanding to purchase 28 aircraft, and its separate agreement to lease up to 56 more.
"ITA has done a thorough clean-sheet aircraft evaluation and has chosen Airbus across all segments," says Airbus chief commercial officer Christian Scherer.
"From the start, we have been working closely with ITA, listening carefully to their requirements."
Air Lease says it will be the launch lessor for ITA and that the 31 aircraft covered under its agreement will comprise five A330-900s, nine A321neos, two A320neos and 15 A220s. These will be delivered from the second half of 2022 through to early 2025.
"These transactions will allow ITA to operate the most technologically-advanced new aircraft to cover its European and intercontinental route network with great efficiency," says executive chairman Steve Udvar-Hazy.