Japan Airlines operated its first commercial flight loaded with two different types of Japan-made sustainable aviation fuel (SAF) on 17 June.
This was conducted on flight JL515, from Tokyo Haneda international airport to Sapporo's New Chitose airport, JAL says in a statement. It was part of a biojet fuels programme under a national research and development agency.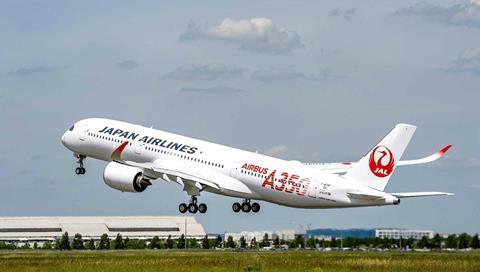 The aircraft was loaded with 3,132 litres (827 USgal) of SAF blended with traditional jet fuel at 9.1% mixing ratio. There were two types of SAF, one made from wood chips, produced jointly by Mitsubishi Power, Toyo Engineering, and JERA, the other from algae, produced by IHI Corporation.
JAL says: "It was the very first attempt to load two different types of SAF on the same flight."
This demonstrates that Japan-made SAF is successful and feasible for actual use, and this is a "first step [toward] the commercialisation of domestically-produced SAF around 2030".
JAL has pledged to achieve carbon-neutrality by 2050 and aims to replace 10% of its traditional jet fuel consumption with SAF to meet targets.
"Specifically, we are planning to [load] SAF on flights departing from North America in cooperation with Fulcrum BioEnergy, an American company in which we invest," the group says.
"In addition, since most of [JAL Group's refuelling is performed] in Japan, the establishment of a domestic production system is also an important issue, and we are conducting a feasibility study with domestic companies on manufacturing and selling [in Japan SAF produced from waste plastic]."