Japan Airlines (JAL) narrowed operating losses for the first half of its 2022 financial year to Y4 billion ($38.3 million) from Y142 billion a year earlier, as revenues surged amid a revival in air travel.
The six months to 30 September saw revenue more than double to Y619 billion, and net losses narrow sharply to Y2.1 billion from Y105 billion, according to the carrier's results statement.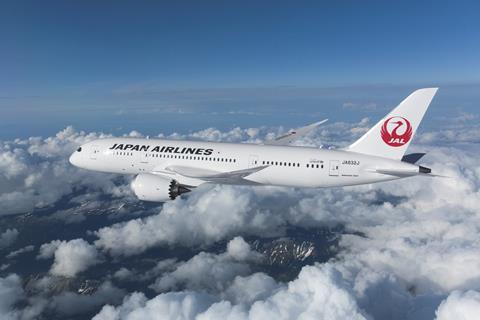 "Passenger demand for both international and domestic is steadily recovering as a result of a growing trend toward a balance of preventing the COVID-19 pandemic and socioeconomic activities," says JAL.
"International passenger demand is gradually recovering due to continued strong transit demand between Asia and North America amid a global recovery in passenger demand, as well as a gradual recovery of demand for outbound business trips and tourism demand."
International passengers carried by the full service JAL unit rose nearly sixfold year on year to 1.7 billion. International RPKs also grew nearly sixfold, with international ASKs more than doubling. International load factors jumped 47.8 percentage points to 70.6%.
JAL also saw major improvements domestically, with passengers carried tripling to 13.8 million, with RPKs tripling and ASKs more than doubling.
Overall, JAL carried 15.5 million passengers during the six-month period, more than triple the number carried in the six months to 30 September 2021.
Long-haul, low-cost unit Zipair carried 163,000 passengers during the period, up from just 5,143 a year earlier. Low-cost unit Spring Japan also saw improvements, carrying 208,000 passengers compared with 23,050 a year earlier.
JAL's cargo business remained robust owing to strong demand and what JAL calls a "tight" supply/demand balance globally. Total FTKs for the six-month period fell 2.4%, but cargo and mail revenue rose 28.3% to Y126 billion.
Despite the improving results, JAL offered a somewhat cautious outlook, warning about the "seventh wave" of the coronavirus pandemic. Still, it expects international revenue to grow more strongly than initially forecast, although this will be offset by high fuel prices.
As such, it retains its forecast of a full-year net profit of Y45 billion. It lists a number of future risks, such as geopolitics, a weak yen, inflation, and the lingering threat of Covid-19.
"On the other hand, there are positive factors such as further acceleration in the recovery of international passenger demand and strong recovery of domestic passenger demand driven by government measures such as the nationwide travel support subsidy program," adds JAL.
"Through these positive factors and also by further strengthening our cost management, we will strive to achieve the above-mentioned financial forecast."