Japan Airlines (JAL) posted an operating loss of Y142 billion ($1.25 billion) for the first half of its 2021 financial year, an improvement on its operating loss of Y219 billion a year earlier.
Total revenue improved 74.7% to Y291 billion, and net losses narrowed to Y106 billion from Y163 billion for the six months ended 30 September, according to JAL's results announcement.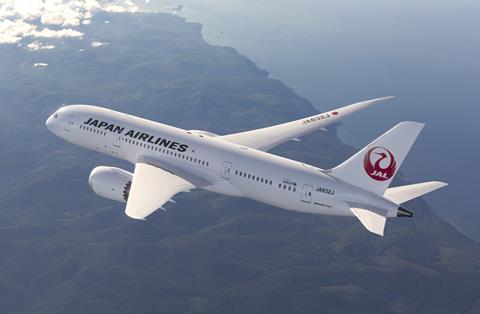 JAL said that the second quarter of its 2021 financial year remained challenging owing to the coronavirus pandemic. This made demand for international travel "very limited" and a domestic recovery has yet to get underway.
Domestic traffic was particularly affected by Japan's declaring a Covid-19 state of emergency in April, and failed to recovery by the key August travel month.
During the period the mainline full service carrier (excluding low-cost carrier units Zipair and Spring Japan) carried 354,000 passengers, quadruple the number carried a year earlier, but still greatly depressed from pre-pandemic levels. The airline also carried twice as many domestic passengers, at 6.2 million.
Overall, ASKs nearly doubled from a year earlier, as did RPKs.
JAL's cargo performance was strong during the period, powered by flying automobile and electric parts to North America. Cargo and mail revenue for the six months to 30 September was Y98.3 billion, up 84% year on year.
Efforts continue at JAL to reduce costs, including reduced operating expenses, salary cuts, restructuring in-house operations, and reducing IT expenditure.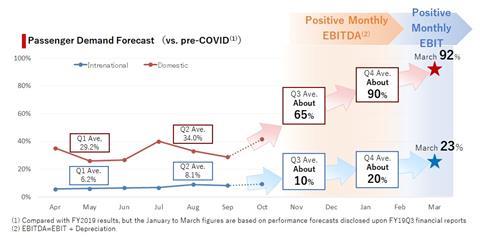 JAL gives a mixed forecast. It says that international demand will remain weak owing to border restrictions in Asian countries, which it believes will not be lifted soon. Still, traffic is starting to pick up gradually between Japan and countries where vaccinations are advancing well.
With the lifting of the state of emergency, domestic demand is starting to improve, particularly with a falling number of new Covid-19 infections and fewer patients in serious condition.
For its full 2021 financial year, JAL forecasts revenue of Y766 billion, an improvement of 59.2% from a year earlier, with an operating loss of Y198 billion.
By early 2022, it expects domestic demand to hit 90% and international demand to hit 20% of pre-pandemic levels. JAL warns, however, that Covid-19 infections as well as border restrictions could cause its final result to vary.