Japan Airlines (JAL) swung to an operating loss of Y390 billion ($3.6 billion) in its 2020 financial year to 31 March.
Revenues dived 65.3% to Y481 billion, as the carrier reported a full-year net loss of Y334 billion, according to its full-year results statement.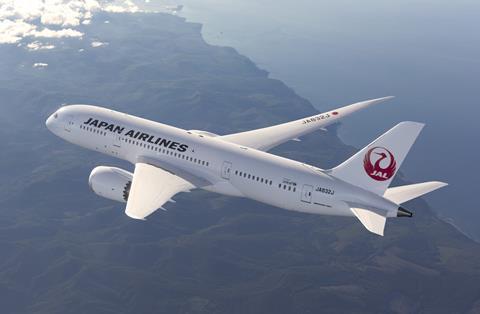 The airline acknowledged that it was an "extremely tough year" for the sector owing to the collapse in air travel amid the coronavirus pandemic.
"Facing a rapid and significant decrease of revenue, we implemented fundamental cost-reduction measures and investment reduction to mitigate the negative impact of the decreased revenue," says JAL.
For the 2020 financial year, operating expenses were Y885 billion, down from Y1.3 trillion in the 2019 fiscal year.
International passenger revenue fell 94.2% to Y27.9 billion, while domestic passenger revenue fell 67.2% to Y174 billion. Cargo and mail revenue, however, rose 40.6% to Y129 billion.
"Severe worldwide restriction on international travel has caused the international passenger demand to almost disappear due to the rebound of infection and the spread of Covid variants," says JAL. "We provided international route network for returnees, expats and transit demand from Asia to North America."
Domestic travel was hurt by a state of emergency in Japan in April 2020, but then picked up again later in the year, only to be hit by another wave of Covid-19 in December 2020.
The reduction in bellyhold capacity over the year was a boon for the cargo business, however, and JAL operated 15,299 cargo flights using passenger aircraft.
As of 31 March 2021, cash and cash equivalents stood at Y408 billion, up from Y329 billion a year earlier. During the year the JAL Group borrowed Y262 billon, and has also secured unused credit lines of Y300 billion. An equity offer in November 2020 raised Y183 billion.
"It is difficult to foresee the recovery of demand while the global spread of Covid-19 shows no sign of slowdown," says JAL.
"The recovery of international and domestic passenger demand may highly be affected by the circumstances surrounding Covid-19 and by situations of border closure and travel restrictions by governments, so that uncertainty on our further business performances, especially both our future supply plan and revenue forecast, is expected to remain."