Kuwaiti budget carrier Jazeera Airways is optimistic over recovery prospects after turning in a full-year net profit of KD7.1 million ($23.4 million).
The airline transported 1 million passengers last year, contributing to revenues of KD80.4 million, and average load factor reached nearly 69%.
"We are confident that restrictions on the travel sector will only continue to ease, and traffic will return to [pre-crisis] levels," says chairman Marwan Boodai.
"Countries around the world have started to fully open their borders."
Jazeera had returned to profitability in the third quarter, and it showed a fourth-quarter net profit of KD7 million. Over half of last year's passengers were carried in the fourth quarter, with a 74% load factor.
"Our airline took the right steps to control costs and limit cash burn," says Boodai.
"Operationally we focused on new destinations that satisfied an appetite to travel to destinations marked 'Covid-safe' as well as catering to a high and latent demand for connecting flights between the Middle East, Asia and Europe."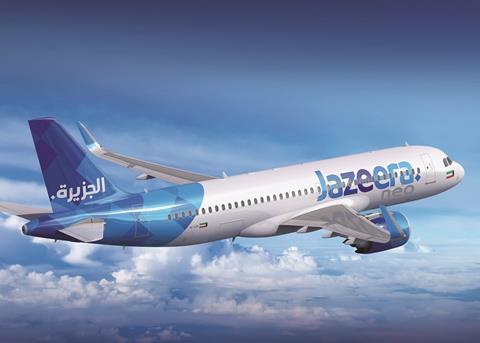 The airline opened eight new routes last year and took its fleet to 17 aircraft with the delivery of four Airbus A320neos.
Chief executive Rohit Ramachandran says the pandemic, while causing disruption, also "opened new opportunities" for the airline – including cargo operations and charter flights.
"We were resourceful in adapting our business operations which enabled us to get through a very difficult period and come back strongly in 2021," he says.
Jazeera adds that its dedicated terminal at Kuwait airport also generated a fourth-quarter profit, and it ended the year with a net profit of KD1.1 million.