Kuwaiti carrier Jazeera Airways returned to profitability in the third quarter, earlier than the airline had forecast, and managed to break even over the first nine months of the year.
The airline turned in a third-quarter net profit of KD11.8 million ($39 million), after generating revenues of KD31.7 million.
Chairman Marwan Boodai says the airline achieved the profits ahead of its previous forecast for the fourth quarter.
He describes the situation as a "positive sign", adding that Jazeera "successfully mitigated" the effects of the pandemic, safeguarding its liquidity and financial position.
It carried out a KD10 million rights issue in July – including KD2 million in shares, increasing the authorised capital to KD22 million – which was fully subscribed. Shareholders approved an adjustment of accumulated losses against a share premium of KD8 million.
Boodai says the strong quarterly earnings reflect "an evident appetite for travel", and the airline's load factor and yield have increased despite "continued imitations" on the number of passengers at Kuwait airport.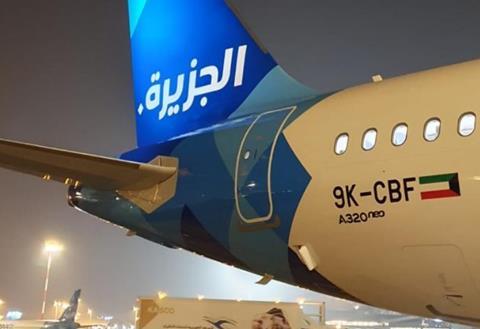 Kuwait airport returned to full capacity on 1 November, after restrictions started to lift from 1 August.
The carrier's Terminal 5 at the airport generated a KD400,000 profit in the third quarter, although it was still in deficit at the nine-month point, with net losses of KD427,000.
"Jazeera's flexible business model continues to prove its resilience against challenges and its strength in positively contributing to the business and economic environment," adds chief executive Rohit Ramachandran.
The airline has increased its fleet to 16 aircraft – comprising eight Airbus A320neos and eight A320s – and another A320neo is scheduled for delivery in December this year.
Jazeera also expanded its network over the nine months to include new routes to London Heathrow, Tashkent, Yerevan, Bishkek, Sarajevo, Colombo, Antalya and Addis Ababa.
It says a "palpable recovery" has started and the airline expects "positive returns" in the fourth quarter. Yields, it adds, will return to average levels as restrictions soften and supply increases.
"We are positive that travel will return stronger to reach 2019 operational performance very soon," says Boodai. While the carrier will "remain prudent", he adds: "We now believe the worst is behind us."