The relaunch of India's Jet Airways, which has faced legal hurdles in recent months, is still in progress, and will see the airline take a "new approach" to its business model.
Speaking at the CAPA India Aviation Summit 2023 in Delhi, Sanjiv Kapoor, the airline's CEO-designate, says the relaunched business strategy "will not be a copy-paste" from the old airline, which collapsed in 2019 as the country's largest privately-owned carrier.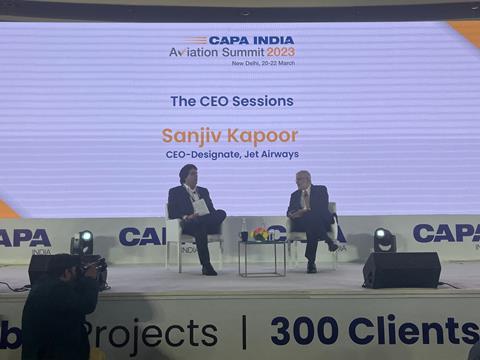 "There's going to be a new approach to fleet… a new approach to revenue management, a new approach to customers, a new approach to IT and digital and how it benefits the end-users," says Kapoor, an industry veteran who previously held senior leadership roles in compatriots SpiceJet and Vistara.
He declines to elaborate further, but stresses that the relaunched carrier – which he calls 'Jet 2.0' – will learn from the lessons of its failed predecessor.
Debt-laden Jet Airways collapsed in 2019 after running out of cash. A resolution plan from new owners Murari Lal Jalan and Kalrock Capital received court approval in June 2021, paving the way for the airline's revival.
The full-service airline received its air operator certificate from Indian regulators in May 2022, and had previously stated its plans to relaunch in the third quarter of 2022.
However, by November the airline had yet to take off, and reports emerged of a legal wrangle between the airline's new owners and creditors over the revival plan – a move that could yet derail Jet's return.
"We had a website [ready], IT systems…call centres…catering, everything set up and ready to go…that process had to come to a pause because of the legal issue," he says.
Still, Kapoor is optimistic the airline will relaunch – and he intends to announce the return of the Jet Airways brand "with a bang".
Kapoor notes that Jet is India's first failed carrier to attempt a relaunch, and cites positive examples elsewhere around the world – such as American Airlines and Japan Airlines – as indications that Jet too can "bounce back to become a top value player in the world".