JetBlue Airways' pilots have ratified an agreement that ends a year-long dispute over aspects of the carrier's "Northeast Alliance" (NEA) with American Airlines.
Pilots, represented by the Air Line Pilots Association (ALPA), had charged that implementation of parts of the NEA violated their contract.
"Since the NEA was announced in the summer of 2020, JetBlue pilots have enforced their contract and, when necessary, disputed the company's ability to enter into this codeshare agreement with American Airlines without the consent of the pilots," says JetBlue captain Chris Kenney, chair of JetBlue's ALPA unit.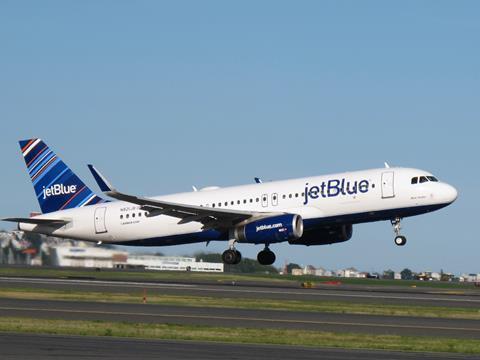 Out of nearly 90% of eligible pilots voting, 60% ratified the agreement. Kenney says the deal "gives the pilot group a voice in this alliance and its continuation, [and] provides improvement to our current pay scale and sick-leave policies".
In February, JetBlue's ALPA council said it would re-open contract negotiations 180 days before the collective bargaining agreement's 31 July 2022 amendable date. Yesterday's settlement appears to be an opening salvo in negotiations.
Still, tall hurdles face the NEA, among them a US Department of Justice lawsuit, filed last September, seeking to block the deal.
In November 2021, the carriers filed to have the antitrust suit dismissed, claiming the alliance is not a merger. "The complaint is defective as a matter of law because plaintiffs have not alleged that the NEA has actually harmed competition," said the filing. "The NEA has been underway for nine months, yet plaintiffs do not allege that it has caused a single higher price, any reduction in quality or the slightest reduction in output." The parties have proposed a trial date in the second half of the year – eyeing September 2022.
In the meantime, the NEA is moving forward.
On 23 March, JetBlue and American unveiled an extensive suite of new benefits for their respective Mosaic and AAdvantage loyalty programmes, further harmonising benefits. More-convenient transfers are being implemented between the JetBlue's current Terminal 5 and American's Terminal 8 at New York's John F Kennedy International airport.
Last week, JetBlue and New York mayor Eric Adams announced plans for the airline to create 5,000 jobs in New York City, largely thanks to the Northeast Alliance. The ground breaking of JetBlue's new $3 billion JFK terminal – on the Terminal 6 and 7 sites – is nearing as well.
Despite recent JetBlue capacity reductions, the airline insists its alliance will be a catalyst for growth in New York and Boston.
By summer, American and JetBlue project they will jointly offer nearly 500 daily departures from the New York area's three major airports, where the alliance holds third position behind Delta Air Lines and United Airlines.
JetBlue and American say their total seats will increase 26% between pre-pandemic June 2019 and June 2022, with JetBlue gaining the lion's share. It has added new routes, particularly at LaGuardia, where JetBlue's larger aircraft have replaced American's regional jets, according to Cirium data.
By June, JetBlue plans to have added over 20 new routes to its New York area network since the NEA expansion began in earnest last April, Cirium data shows.
The NEA has further buoyed JetBlue's leading presence at Boston Logan airport, where it has 28% seat-share, ahead of Delta's 24%, according to Cirium. Jointly, American and JetBlue control 42% of seats at Logan.
American has been adding more long-haul fights at JFK and Boston, supported to some extent by JetBlue's domestic feed.
At the recent JP Morgan Industrials Conference, JetBlue chief executive Robin Hayes credited the NEA with generating significant incremental revenue, citing loyalty-programme advantages and saying the partnership makes the airline more attractive to business travellers.