Kenya Airways remained loss-making in 2022 as foreign exchange headwinds hit the carrier's performance, countering a jump in revenues to within 5% of pre-pandemic levels.
The SkyTeam carrier posted an operating loss of KShs5.6 billion ($43 million) – a slight improvement on the KShs6.8 million it lost in 2021. However, pre-tax losses more than doubled to KShs38.3 billion for the year as foreign currency losses impacted the carrier's financial performance. The net loss also exceeds the KShs36 billlion it lost in 2020.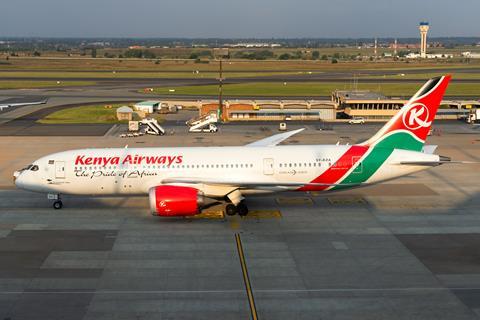 "The airline recorded [foreign exchange] losses occasioned by the restructuring of guaranteed government of Kenya loans as part of the ongoing financial restructuring programme, negatively impacting the income statement by KShs26 billion," says Kenya Airways chief executive Allan Kilavuka.
"If you remove the impact of the those losses and the abnormal fuel cost increase of 160%, we would have made an operating profit."
Airline revenues increased by two-thirds last year to KShs116.8 billion, within 5% of 2019 levels. That was achieved on an increase in passenger numbers to 3.7 million, up from 2.2 million a year earlier. That, however, remains some way below a previous passenger volume high of 5.1 million.
Kenya Airways is undergoing a major restructuring after a decade of net losses were exacerbated by the pandemic. It is pursuing a turnaround plan which the country's government hopes will end the requirement for further state financial support by the end of this year.
"We are on course to turn around the business by 2024," says Kilavuka. "We are confident that this will be achievable with the support we are getting from our customers, our employees, our principle shareholder – the government of Kenya – and other stakeholders."