Air France-KLM Group has agreed to order four Airbus A350 freighters which its Martinair division will operate for KLM Cargo.
The group will also order another three A350-900s for the Air France fleet.
Air France-KLM says the A350Fs – to be stationed at Amsterdam Schiphol – will be used to replace four Boeing 747 freighters operated by KLM Cargo and Martinair. The Martinair fleet is based on 747-400Fs and -400ERFs.
The additional A350Fs will complement four others which the group ordered for Air France towards the end of 2021.
"Both [Air France and Martinair] will be among the launch operators of the A350F full freighter," says the company.
Deliveries of the twinjets – powered by Rolls-Royce Trent XWB engines – are scheduled to begin in autumn 2026.
KLM chief executive Marjan Rintel says the attention on environmental responsibility has led to the carrier's placing the order "earlier than originally planned", adding that they were originally expected in 2027.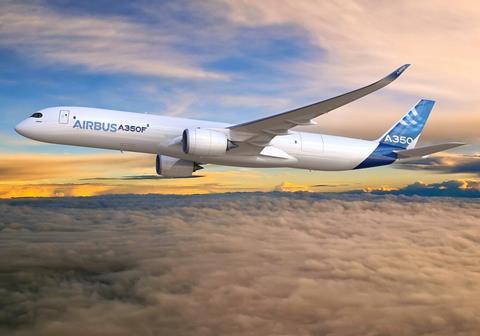 Environmental commitments from Air France-KLM were part of the conditions attached to governmental financial support to the company during the pandemic crisis.
Airbus had disclosed an order for four A350Fs in its full-year backlog figures for 2022, attributing them to an unidentified customer. It has not yet confirmed whether these are the jets destined for Air France-KLM.
Air France's extra A350-900s, to be delivered from next year, will also be used to replace older types.
They will be based at Paris Charles de Gaulle and take the French flag-carrier's fleet of A350-900s to 41.
Air France says the A350s will be fitted in a three-class layout including a premium-economy cabin.
The Franco-Dutch group operates a combined fleet of 506 aircraft, among them six dedicated freighters.
"This investment [in A350Fs] is evidence of our confidence in the sustainable growth of the cargo market in the coming years, as well as our commitment to reducing our environmental footprint," says chief executive Ben Smith.
Smith adds that the A350-900 has proven a "reliable and efficient" aircraft since the twinjet type's introduction into Air France operations.