Korean Air's proposed merger with Asiana is to be scrutinised by European Union regulators concerned that the tie-up will reduce or eliminate competition on Korean-European routes.
The European Commission is opening an in-depth investigation which will focus on four particular connections from Seoul.
Korean Air and Asiana both operate to Paris Charles de Gaulle, Frankfurt, Rome Fiumicino and Barcelona.
But while there is competition on the Paris and Frankfurt routes – respectively from Air France and Lufthansa – the two Korean carriers are the only operators on the Rome and Barcelona sectors.
"Other airlines may be unlikely to exert sufficient competitive pressure on the merged entity," says the Commission.
Korean Air is seeking to take over the whole of Asiana. The merger was notified to the Commission on 13 January.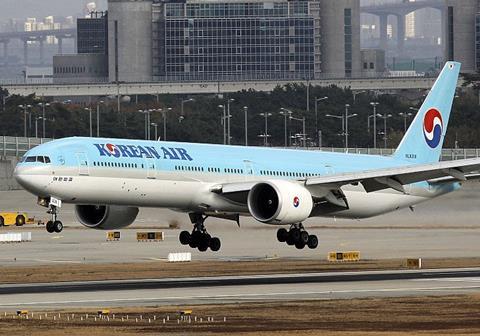 The Commission's preliminary analysis highlights the four Seoul-European Union routes on which the two carriers compete "head to head", and says the transaction could "reduce" or "eliminate" potential competition in South Korean-European passenger services.
It adds that there could also be a negative effect on provision of cargo transport, adding that competitors face "regulatory and other barriers" to expand their services.
"Despite the severe impact of the coronavirus pandemic in the passenger air transport sector, it is unlikely that Asiana and Korean Air would stop competing or be significantly less competitive absent the transaction," says the Commission.
Korean Air and Asiana have decided not to submit commitments which might alleviate concerns.
The Commission will assess the effects of the proposed merger, and will have until 5 July to take a decision on whether its concerns are justified.
"We will ensure that the acquisition of Asiana by Korean Air does not impede competition and will not lead to higher prices, less capacity or lower quality for passengers and cargo air transport services," insists European competition commissioner Margrethe Vestager.
Korean Air and Asiana are also the only two carriers serving the Seoul-London Heathrow route, but this is not covered by the Commission's investigation owing to the UK's withdrawal from the EU.