Kuwait Airways appears set to take delivery of its first Airbus A330-800 in the third quarter of this year.
FlightGlobal understands, from a source familiar with the situation, that the airline is working to this timetable following the certification of the -800 in mid-February.
Kuwait Airways is configuring the Rolls-Royce Trent 7000-powered aircraft with 226 seats including 23 in the business-class cabin.
The airline ordered eight of the type in October 2018. It has newly released footage of the first aircraft (9K-APF) being painted at the Airbus facilities.
Airbus has not confirmed the timeline for handing over the aircraft. "It is the customer's privilege to communicate on delivery details," says the airframer.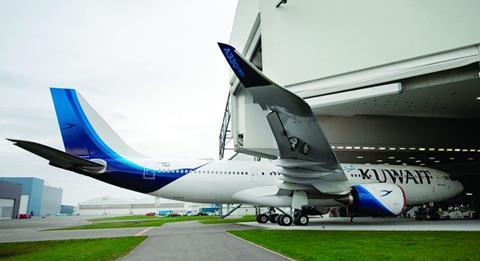 At the time of the order, the airline had planned to take delivery of the A330-800 in March.
There is no firm indication as to the reasons for the timetable shift, and whether it has been affected by later-than-expected certification or operational adjustments Kuwait Airways is making in the wake of the coronavirus outbreak. The airline has suspended services to destinations in Iran, Thailand and Italy.
Kuwait Airways' A330-800 deliveries are set to run until 2026.