Kuwait Airways has rejigged its aircraft orders with Airbus, including a notable switch to the A330-900, to match more closely its development plans over the next few years.
The carrier will also take a batch of A321neos including long-range versions of the twinjet.
Kuwait Airways had eight A330-800s on order – two of which have been delivered – but will instead take four.
It also had orders for five A350-900s, yet to be received, but the new plan envisions two of the type.
The airline had originally opted to take 10 A350s in 2014 but subsequently chose to take the A330neo in another order rethink four years later.
Kuwait Airways is again turning to the A330neo in the latest restructuring, opting to introduce seven A330-900s configured with 291 seats.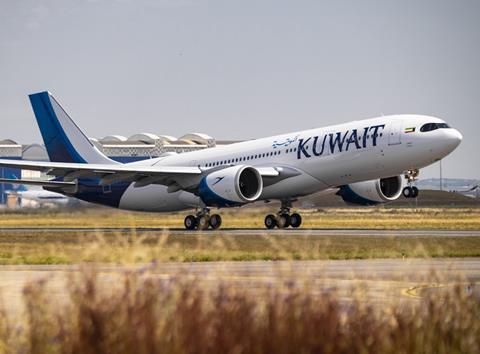 The carrier has also overhauled its agreement for single-aisle jets, which originally included 15 A320neos of which six have been delivered.
It will take nine A320neos with 134 seats, supplemented with six A321neos and three A321LRs – all configured with 169 seats.
Kuwait Airways chair Ali Al-Dukhan says the airline views the A330-900 as offering improved economics, with the capability of transporting over 50 more passengers than the 235-seat A330-800.
"This agreement is one of the largest concluded between Kuwait Airways and Airbus," he says.
"Airbus has greatly contributed to the development of the Kuwait Airways fleet, with its modern and diverse aircraft."
Al-Dukhan says the restructured fleet "aligns with the plans and strategies" of the company to introduce aircraft models of capacities "appropriate to the vision" of the airline and its ambitions to expand its network.