Kuwaiti budget carrier Jazeera Airways is to open London Heathrow services from mid-June, two years after commencing operations at London Gatwick.
The airline says it will operate its initial flight on 18 June, and serve the route from Kuwait weekly.
Jazeera claims it will be the first low-cost airline from the Middle East region to fly non-stop to the primary UK hub.
Frequency of the service will increase as pandemic-related travel restrictions ease, it adds.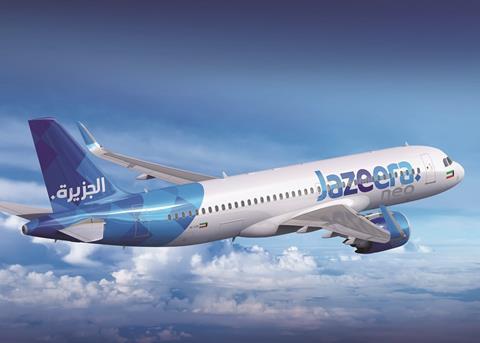 "Our new service to Heathrow airport enables Jazeera Airways to cater to popular demand for flights to and from London," says chief executive Rohit Ramachandran.
He says this demand includes interest from business passengers, tourists and students from the Gulf emirate.
Jazeera's reservations system indicates that the airline will use Airbus A320neo jets on the route.
It is offering various seat selections in different parts of the cabin, featuring seat pitches of 31in, 33in or 36in, as part of its on-board product.
Kuwait currently remains under tight restrictions, with only fully-vaccinated Kuwaiti citizens able to travel in or out of the country.
"Widening of entry permissions to Kuwait, to include all UK-originating passengers who have been fully vaccinated, is under consideration," the airline says.