Kyrgyzstan's Air Manas has become the first operator in the CIS to introduce the Airbus A220.
The aircraft, an A220-300 variant, has been deployed with the Kyrgyz carrier through a lease agreement with GTLK.
Airbus says the airline will bring in a second A220-300 later this year.
It states that the aircraft has a single-class interior configuration seating 145 passengers.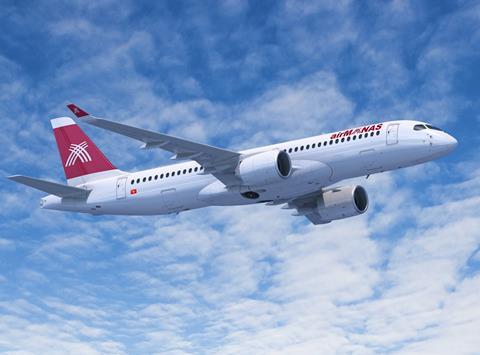 Air Manas intends to use the aircraft on domestic routes as well as regional services within the CIS and eastern Asia.
GTLK ordered six A220s, all of which have been delivered.
Air Manas says it intends to expand the fleet and introduce a total of five A220s by the end of 2023.
The aircraft will bear a new livery for the carrier, which is aiming eventually to operate to European destinations.
Air Manas says its staff are undergoing training for the A220 at Lufthansa centres in Frankfurt and Zurich, as well as from Airbus Canada.