Premium transatlantic carrier La Compagnie is to branch into cargo operations, transporting freight on board its Airbus A321LR twinjets between Paris and New York.
The airline, which specialises in business-class flights from Paris Orly to Newark, has contracted Worldwide Flight Services to handle cargo on the route.
WFS already conducts passenger and ramp handling for the airline on its flights from Newark to Orly and Nice.
La Compagnie says the agreement amounts to its initial foray into the air cargo sector.
"This is the first time [we have] carried cargo on board [our] business passenger services," it states.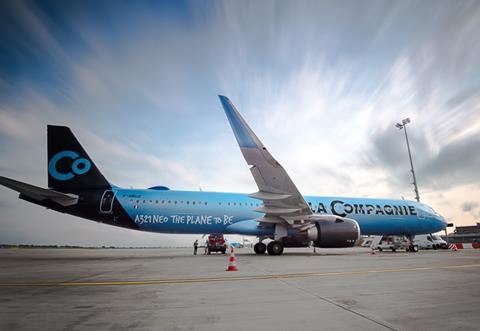 It adds that each flight will carry up to 3.5t of cargo, depending on the number of passengers accommodated.
The airline is operating four-times weekly flights on the route which it plans to increase to seven in September.
"La Compagnie has recognised the significant business opportunity of carrying cargo on this prime route," says WFS's executive vice-president for cargo in Europe, John Batten.
"We are confident companies moving cargo between Europe and North America will welcome another choice of capacity in the market."