LATAM Airlines Group expects to exit the Chapter 11 bankruptcy process in the first week of November, having secured the required financing.
The Chile-based group filed for protection under the scheme in late May 2020, during the first months of the Covid-19 crisis, and has since been working on a restructuring of its business alongside affiliates across the Latin America region.
As LATAM reaches the final stages of that process, a 12 October announcement says it has secured the funds necessary to repay its debtor-in-possession financing, paving the way for its exit from Chapter 11 protection in the coming weeks.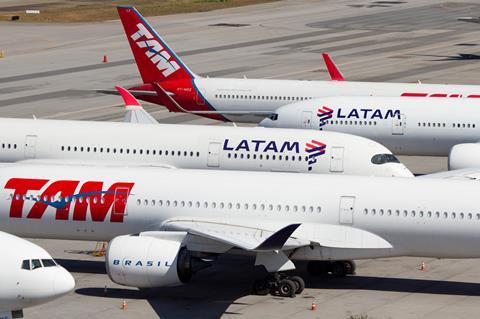 The financing plan includes a five-year term loan facility of $1.1 billion, a $500 million revolving credit facility and two sets of senior secured notes totalling $1.15 billion. It will also execute two previously announced bridging facilities totalling $1.5 billion.
The exit financing further includes junior a debtor-in-possession facility of approximately $1.15 billion, LATAM says.
"In a very challenging and dynamic environment, we are on track to close all of the financings required under the company's Plan of Reorganization," says LATAM Airlines Group chief executive Roberto Alvo.
"In the coming weeks we expect to emerge from Chapter 11 with approximately $2.2 billion of liquidity and a debt reduction of approximately 35% compared to the debt we had outstanding before entering into this process."
In June, a US court approved LATAM's restructuring plan, which included a $5.4 billion financing package backed by major shareholders – such as Delta Air Lines, Qatar Airways and Grupo Cueto – as well as key creditors, prompting the group to predict an exit from Chapter 11 in the second half of 2022.
LATAM said it late August that it expects to exceed pre-crisis revenues next year, as part of a revised business outlook.