South American operator LATAM Airlines Group, along with some of its affiliates, is filing for US Chapter 11 creditor protection in order to undertake a restructuring process.
The company says the voluntary filing, with the Southern District of New York bankruptcy court, has the support of key shareholders Cueto Group and Qatar Airways, which will provide up to $900 million in debtor-in-possession financing.
Cueto Group holds 21.46% of the company, according to the filing. Qatar Airways has 10% and Delta Air Lines has 20%.
Twenty-nine entities are included in the filing. While affiliates in Chile, Peru, Colombia, Ecuador and the USA are among them, those in Argentina, Brazil and Paraguay are not.
"Despite undertaking meaningful cost saving and liquidity-preserving measures, the company's liquidity position has continued to deteriorate in the wake of the [coronavirus] pandemic," the LATAM Airlines Group filing states.
LATAM says it is aiming to "transform its business" to maintain a "leading position" in Latin American air transport during recovery from the crisis.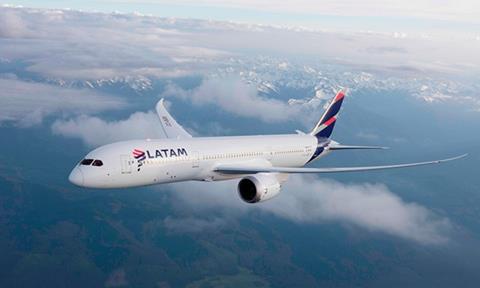 It stresses that there will be "no impact" on passenger and cargo operations.
"This re-organisation process provides LATAM with an opportunity to work with the group's creditors and other stakeholders to reduce its debt, access new sources of financing and continue operating," it adds.
LATAM and the affiliates will be able to "re-size" their operations, to match new levels of demand, and re-organise balance sheets to become "more agile, resilient and sustainable".
"This path represents the best option to lay the right foundation for the future of our airline group," says chief executive Roberto Alvo, pointing out that LATAM was "healthy and profitable" before the crisis caused a collapse in the air transport sector.
LATAM states that the shareholders' financial support "demonstrates a belief" in the company and its affiliates.
"To the extent permitted by law, the group would welcome other shareholders interested in participating in this process to provide additional financing," it adds.
LATAM says it had around $1.3 billion in cash on hand at the time of filing. It is in talks with governments of its South American home states to source further funds, to protect jobs and minimise disruption.