Swiss has completed the introduction of its Airbus A220 fleet, five years after it began, following the delivery of its final aircraft from a batch of 30.
The Lufthansa Group carrier became the first airline to receive the A220 – then known as the Bombardier CSeries – when it took the initial twinjet in June 2016.
Swiss was the launch operator for the type. Its final aircraft, an A220-300 variant (HB-JCU), arrived at Zurich on 24 May after flying from Montreal Mirabel.
"The Airbus A220 helps give us one of Europe's most advanced aircraft fleets," says Swiss chief executive Dieter Vranckx.
"This in turn enables us to live up to our environmental responsibilities."
The carrier's 30 A220s comprise 21 of the larger -300 version, fitted with 145 seats, and nine of the 125-seat A220-100.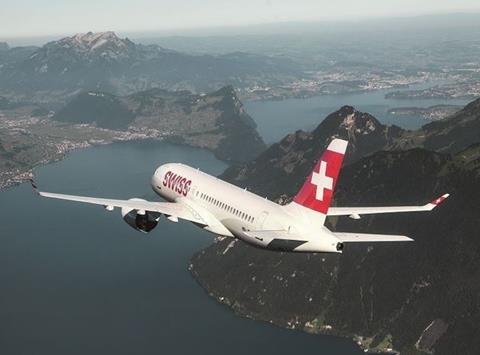 By the end of April a total of 155 A220s had been delivered by Bombardier and Airbus, out of a total of almost 650 ordered. About 86% of the orders are for the -300 model.
"Swiss will continue to invest in advanced aircraft and technologies," says Vranckx, pointing out that the carrier aims to halve carbon emissions by 2030 from 2019 levels.
"To do so, though, we must be able to operate within parameters that allow us to maintain both a competitive edge and an investment capability."
Swiss expects to conduct the first commercial service with the final aircraft, to London, on 29 May.