Leasing firm Nordic Aviation Capital is acknowledging negotiations with Garuda Indonesia with regards to Bombardier CRJ1000s it supplied to the flag-carrier, as a result of pandemic-related financial pressures on the airline.
But it is insisting that it will hold Garuda to its obligations, after an Indonesian minister stated that he would back a decision by the carrier to terminate its contract for the 12 aircraft.
State-owned enterprises minister Erick Thohir claimed, during a 10 February briefing, that the CRJ1000s were insufficiently compatible with the Indonesian market and this had resulted in "sub-optimal commercial performance".
He says the NAC aircraft have 12-year lease terms which means the jets, delivered over 2012-15, are supposed to remain in the fleet until 2027.
But he says he will "firmly support" a termination of the contract by Garuda's management and the return of the aircraft to NAC.
Garuda also has six other CRJ1000s, sourced directly from Bombardier under 10-year leases which run to 2024, and Thohir says the carrier has also "attempted" to negotiate a settlement over these aircraft.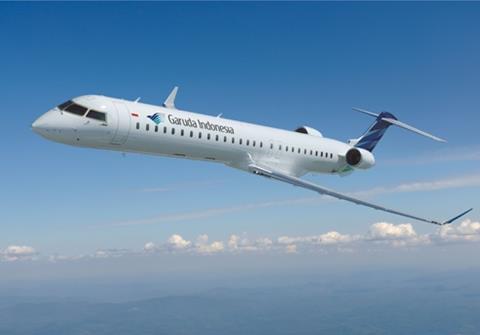 NAC says that, while it has been holding "extensive discussions" to assist the airline with its cash position, no agreement has been reached and no termination notice for the leases has been received.
"The lease agreements remain in full force and effect and NAC expects Garuda to continue to honour its contractual commitments," it states, adding that it sympathises with the airline's commercial difficulties but is "determined to protect its commercial interest".
Garuda had already been under pressure in relation to a UK fraud investigation into Bombardier contracts with the carrier.
The Serious Fraud Office disclosed last November that it was investigating the airframer over "suspected bribery and corruption" in connection with Garuda's aircraft orders.
Bombardier stated at the time that it was co-operating with the probe, adding that no charges had been laid against the airframer or its employees in relation to the matter.
NAC has distanced itself from the UK inquiry, stressing that it is "not party to any investigation" into Garuda's original aircraft selection and emphasising that there has been "no allegation of any wrongdoing" in relation to NAC's part in placing the CRJ1000s.