Polish flag-carrier LOT has disclosed that it made a net loss of zl1.33 billion ($281 million) last year, a deterioration on the zl1.04 billion of 2020.
The airline revealed the figure in annual activity documents newly filed with the Polish ministry of justice.
It turned in total revenues last year amounting to zl3.25 billion, but total expenditure increased to zl4.59 billion.
The full-year operating loss of zl1.3 billion was substantially greater than the previous figure of zl734 million.
"Gradually rebuilding the scale of operations [that existed] before the Covid-19 pandemic, with still-limited demand for passenger service and travel restrictions, led to higher operating costs," the carrier states.
It closed the year with a fleet of 59 aircraft on operating lease, 15 on finance lease, and four owned – three Embraer ERJ-145s and an E175.
LOT says it has been preparing to simplify the fleet structure and further reduce its cost base as part of the effort to build up its operations, after a number of measures intended for 2020 – including new long-haul routes, and introduction of additional aircraft – had to be postponed.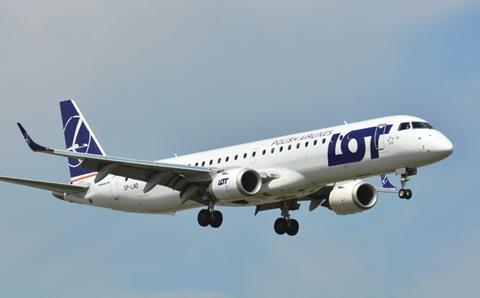 It says it has been having to cope this year with difficulties associated with European Union regulations on retaining slots, stating that these resulted in "less scope" for adjusting the scale of its operation.
But LOT adds that the Ukrainian conflict presents an "even greater" challenge to the carrier, owing to the effects from fuel prices and exchange rates which "significantly" increase costs and "make it difficult to achieve profitability of [routes]".
"Owing to the proximity of Ukraine, the perception of Poland as a safe and attractive tourist destination has deteriorated," it adds.
It points out that the various airspace closures – which affect access to airspace in south-east Poland – extend flight times not only to Asian destinations but also closer points, such as cities in Turkey, Georgia, and Israel and even Greece and Bulgaria.
Suspension of connections to Russia and Ukraine, as well as Moldova, not only restricts outbound traffic to these destinations, but also results in substantial reduction of transit traffic through Warsaw to Europe and North America.
The airline's strategy to counter the effects of the conflict on its business include becoming more involved with flights to the Balkans as well as the Caucasus and Middle East, using larger aircraft and higher frequencies. New services – such as Baku, Cairo, and Sarajevo – have been accelerated, in a bid to replace lost passenger flows.
LOT is also looking for avenues to increase aircraft and crew utilisation, while minimising commercial risk, through charter flights or wet-lease to other operators.