Budget carriers Norwegian and Wizz Air are each undertaking investments in sustainable fuel, through individual projects.
Norwegian is embarking on a partnership with Norsk e-Fuel to build a full-scale sustainable fuel plant in Mosjoen.
Under the agreement, which has yet to be finalised, the carrier aims for long-term offtake of the fuel and an equity stake in the company.
The carrier plans to secure 20% of its sustainable fuel demand to 2030 through the partnership. It will invest NKr50 million ($4.7 million) to acquire the minority stake.
Chief executive Gier Karlsen says the pact is a "landmark agreement" and a "milestone" for aviation in the Nordic state.
"Our sector contributes to great value creation, both socially and economically, and we commit to significantly reducing our climate impact as we take advantage of technological advances within aviation fuel," he says. "E-fuels can become a gamechanger for aviation."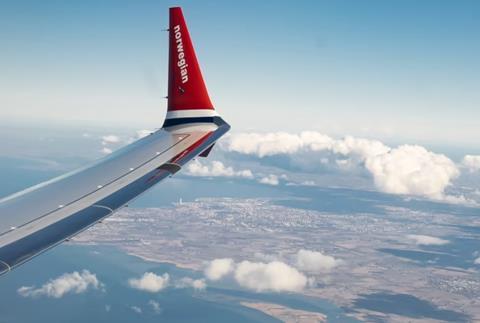 The Mosjoen plant will, under the plan, start producing e-fuel from around 2026. E-fuels are synthetic fuels produced with 'green' hydrogen, from sustainable electricity sources and captured carbon dioxide.
"Ultimately, e-fuels will be able to compete with and replace fossil fuels, says Karlsen. "Time is crucial and we are very eager to get started."
Central European budget airline Wizz Air is also investing £5 million ($6.2 million) in a biofuel company, Firefly, in order to obtain sustainable fuel for its UK operation from 2028.
The equity investment is the carrier's first in sustainable fuel research.
Wizz says the agreement will result in its UK operation being supplied with up to 525,000t of fuel over the course of 15 years.
Firefly uses a process to convert sewage sludge into fuel. Wizz says the company aims to have its first commercial plant operational within five years.
"Feedstock availability remains the key challenge for the industry," says Wizz head of strategic projects Michael Berlouis.
"Our investment in Firefly and its sewage-sludge sustainable fuel technology is a major step forward for Wizz Air in securing its long-term ability to provide low-cost fares to its customers in an ever-more environmentally-sustainable way."