Lufthansa's agreement for five Airbus A350-900s has given the airframer its first long-haul order from an airline this year, although it only increases the German carrier's firm A350 commitment by two.
Airbus's latest backlog data shows that the airline's overall A350 order has increased only from 43 to 45 aircraft, despite Lufthansa's signing for five more on 12 May.
This indicates that Lufthansa simultaneously cancelled previous orders for three A350-900s.
The overall number of A350 orders secured by Airbus has risen by two, as a result, from 913 to 915. These comprise 747 of the -900 and 168 of the larger -1000.
Lufthansa is the first airline this year to order twin-aisle aircraft from the airframer, and the first customer to sign for A350s since a deal for 10 was listed in March 2020 – nearly 14 months ago.
The only other long-haul aircraft customer this year has been Airbus's defence division which signed for a single A330-200, for tanker conversion, in February.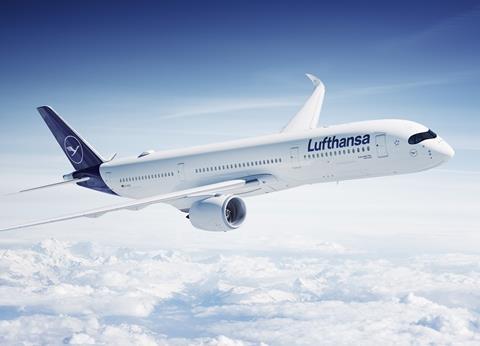 Airbus's only other order in May came from Mexican budget airline Volaris which is taking two A320neos.
The two agreements bring gross orders to 94 for the first five months of 2021, more than offset by 125 cancellations, leaving Airbus with a net order deficit.
But Airbus delivered 50 aircraft in May, including its first A380 of the year to Emirates, taking overall deliveries to 220 in 2021.