Lufthansa Group is projecting a "further significant improvement" in profit this year after confirming its return to the black in 2022 with an adjusted EBIT of €1.5 billion ($1.6 billion).
The profit figure marks a turnaround on the €1.7 billion the airline group lost in 2021 and marks its first profit since the pandemic. The profit was achieved on a near doubling of revenues to €32.8 billion, itself driven by a sharp upturn in its passenger business.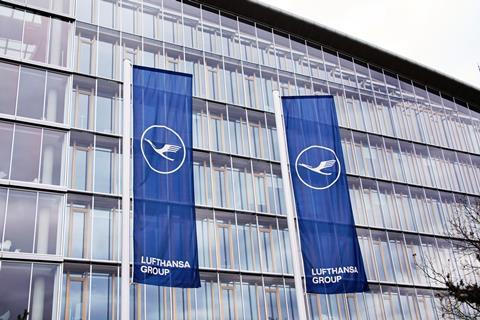 Passenger revenues jumped to €22.8 billion from just over €9 billion a year before. This reflected higher yields, which were 16% above 2019 levels for the year, as well increased passengers numbers.
The group's passenger airlines business cut operating losses from €3.3 billion to €300 million for the year, with Swiss and Austrian both turning a profit for the year.
Lufthansa group airlines' revenue and earnings: 2022
Airline
Revenue 2022
Revenue 2021
Adjusted EBIT 2022
Adjusted EBIT 2021
Source: Lufthansa, Group figure includees MRO, catering, other and is after conslidation
Lufthansa Airlines
€13.2bn
€5.1bn
(€466m)
(€2.3bn)
Swiss International Air Lines
€5.0bn
€2.2bn
€476m
(€395m)
Austrian Airlines
€1.9bn
€743m
€3m
(€249m)
Eurowings
€1.9bn
€822m
(€197m
(€226m)
Brussels Airlines
€1.2bn
€560m
(€74m)
(€178m)
Lufthansa Cargo
€4.6bn
€3.8bn
€1.6bn
€1.5bn
Group
€32.8bn
€16.8m
€1.5bn
(€1.7bn)
Lufthansa Group's return to profit was supported by a continued strong performance from its logistics segment, as record yields helped Lufthansa Cargo to post a €1.6 billion adjusted EBIT. Likewise, its MRO unit Lufthansa Technik lifted its adjusted EBIT by 41% to €511 million for the year.
Group chief executive Carsten Spohr, whose mandate at the helm of Lufthansa has just been extended for a further five years, says: "Lufthansa is back. In just one year, we have achieved an unprecedented financial turnaround. With an operating profit of €1.5 billion, the Lufthansa Group has achieved a much better result than expected."
Lufthansa expects to increase passenger capacity to around 85 to 90 percent on average compared with 2019. While it expects to record an adjusted EBIT loss in the first quarter of this year, it is guiding for a further significant improvement overall driven by "particularly strong" earnings in the second and third quarters.