Lufthansa Group achieved an operating profit of €393 million ($400 million) in the second quarter of this year and is "optimistic" for the full year, even as disruption-related costs kept its airlines unit in the red.
The group's cargo business was a standout performer for the three months to 30 June 2022, reporting an operating profit of €482 million, with average yields continuing to be "well above the pre-crisis level".
Yields were also strong in the passenger airlines segment, at 10% up on pre-crisis levels as capacity hit 74% on the same basis. Nevertheless, a €86 million loss for the unit came with €158 million in "irregularity cost in relation to disruptions in the flight operations" during the quarter.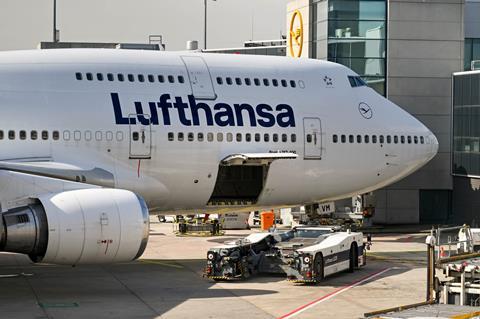 The group highlights the strong performance at Swiss during the period, as it achieved an operating profit of €107 million, and says a "boom in demand for airline tickets" continues at all carriers.
"Together, we have steered our company through the pandemic and thus through the most severe financial crisis in our history," says Lufthansa Group chief executive Carsten Spohr. "Now we must continue to stabilise our flight operations.
"To this end, we have taken numerous measures and successfully implemented them."
Alongside Lufthansa Cargo, Lufthansa Technik also made a strong contribution to the group profit, with increased demand for MRO services amid the Covid-19 recovery helping it generate an operating profit of €100 million.
The business achieved a group-wide net profit for the period of €259 million.
Overall revenue of €8.46 billion was more than double that seen in the same period of 2021, while the operating profit of €393 million compares with a €827 million loss a year ago.
The group – which is facing strike action from its Lufthansa mainline pilots and recently saw 20,000 ground staff hold a warning strike – says it plans to hire 5,000 new employees in the second half of 2022. That comes amid a positive outlook, despite "continuing uncertainty regarding global economic and geopolitical developments and the further progress of the Corona pandemic".
Capacity is expected to be 80% of pre-crisis levels in the current quarter, helping it to hit around 75% for the full year.
On that basis, the group is guiding for a full-year operating profit of above €500 million.
Lufthansa Group highlights adjusted free cash flow of €2.1 billion in the second quarter, which helped to reduced net debt to €6.4 billion and increase available liquidity to €11.4 billion.