Lufthansa Group took an impairment charge of nearly €570 million over the first half, including €300 million relating to withdrawal of aircraft.
The company says the figure is connected to 65 aircraft which will be "permanently grounded".
These aircraft comprise six Airbus A380s and five Boeing 747s, plus 11 Airbus A320s from the Lufthansa mainline fleet, as well as a pair of Lufthansa Cargo Boeing MD-11Fs.
Three Boeing 767s and 13 Bombardier Q400s will be removed from Austrian's operation.
Brussels Airlines will take out two leased Airbus A330s and eight A319s while Lufthansa's Eurowings division will withdraw 15 leased Q400s.
Removal of the A380s and 747s will reduce capacity at Lufthansa's Frankfurt and Munich hubs in the long term, the company states.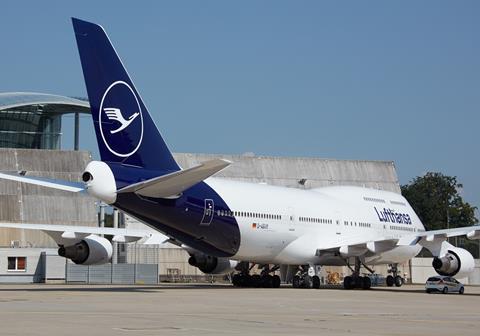 Lufthansa has also "temporarily" grounded 17 Airbus A340-600s, it adds: "Use of these aircraft in regular scheduled service is not planned for at least the next one, to one-and-a-half, years."
The company says it has taken into account, during impairment tests of its business, the risk of further fleet adjustments – none of which has been decided.
Lufthansa Group's financial planning to 2023 includes accepting a maximum of 80 new aircraft into the fleet, and deferral of new arrivals means the investment in new aircraft will be halved over the period.
It expects 23 aircraft deliveries ths year, of which nine were received in the first half. Twelve aircraft deliveries are scheduled for 2021.
The company is listing assets of €384 million as being held for sale at 30 June, adding that this includes aircraft with a book value of €61 million.
Among them are five Boeing 747s, three MD-11Fs, three 767s, 12 Airbus A320-family jets and 14 Q400s.
Lufthansa Group's impairments for the first half also featured a €219 million charge, including €157 million linked to goodwill depreciation of Eurowings and the LSG US business divisions. Impairment of joint-venture holdings with Lufthansa Technik totalled €62 million.
Along with a €782 million fuel-hedging loss over the first six months, the impairments dragged Lufthansa Group's net loss to €3.6 billion for the half-year.