Lufthansa Group is to serve as launch customer for a virtual-reality procedure trainer for pilots being developed by Airbus.
Airbus intends the system to allow pilots to undertake procedures training without the use of a flight simulator or fixed training equipment.
The airframer showed off the development at the European Airline Training Symposium in Berlin.
Airbus says the system "immerses" pilots in an authentic virtual cockpit, through a visual headset, and enables full interaction with the instruments, switches and levers.
The virtual procedure trainer allows pilots to perform repeated drills, building physical muscle memory and sequence knowledge of Airbus standard operating procedures.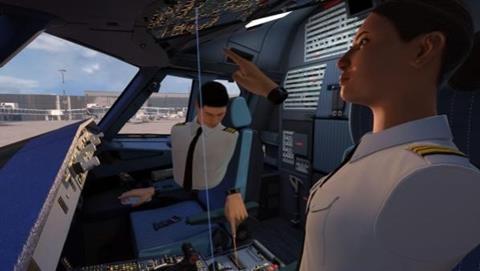 Lufthansa Group head of aviation training development Gilad Scherpf says the system will be used for Airbus A320 pilots across various interactive platforms.
"The resulting training enhancements will enable further use cases as well as regulatory acceptance," says Scherpf.
"This will be based on the jointly-gathered data while aiming at a trainee-centric, flexible solution to support key competencies."
Airbus vice-president of flight operations and training Fabrice Hamel says the system has shown pilots have "demonstrably" learned procedures "more effectively and efficiently".
This potentially enables type-rating courses for cockpit crews to be shortened. Hamel adds that the tool provides flexibility by enabling pilots to train alone or together online.