Austria's government has agreed with Lufthansa Group a financial support package for Austrian Airlines worth €600 million ($667 million) to secure its future operation as a network carrier in Vienna.
The "rescue package" includes €150 million in state aid from Austria's government to cover "coronavirus-related losses", and repayable loans worth €300 million from multiple local banks, Austrian says.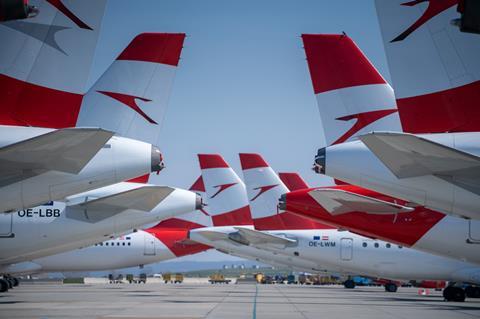 Lufthansa will inject another €150 million in equity capital.
Austria's government will guarantee 90% of the loans via the state's COFAG agency, a special purpose vehicle to provide liquidity assistance to companies during the coronavirus crisis.
The banking syndicate includes Erste Group, which is serving as overall arranger for the loan package, Raiffeisenbank International, BAWAG and potentially further banks, Austrian says.
It notes that the entire financing package is dependent on Germany's planned €9 billion support package for Lufthansa, which the airline arranged with the government in Berlin in May.
The European Commission and corporate bodies within the airline group have yet to approve Austrian's support package.
Austrian says that the Alpine nation's government received "long-term, binding commitments" to use Vienna airport as a hub and maintain long-haul routes and services to central and eastern Europe, a role the carrier has played for decades.
Lufthansa Group chief executive Carsten Spohr states: "Thanks to this rescue package in combination with the improved framework conditions of the Austrian aviation system partners, we see ourselves in a position to rebuild the flight hub in Vienna after the crisis."
In return for the financial support, Austrian will fulfill "strict ecological requirements", it says.
The airline has pledged to halve its domestic CO2 emissions by 2030, and reduce by 30% its overall carbon emissions during that period.
As part of the effort, the carrier says it will transfer short-haul passengers to rail services "inasmuch as an adequate infrastructure is available and direct accessibility to Vienna airport is ensured based on a travel time of considerably less than three hours".
However, the airline says that "the objective is also to make sure that the airports in Austria's provincial capitals continue to be connected to a Lufthansa flight hub".
In April, Austrian disclosed a plan to retire three of its six ageing Boeing 767s by 2022 and to phase out its entire batch of Airbus A319s.
The retirements – which include a previous decision to remove 18 De Havilland Canada Dash 8-400 turboprops by 2021 – is a part of a plan to reduce Austrian's fleet to around 60 aircraft.
Cirium fleets data shows the carrier has a total 84 aircraft today, including Embraer 195s, Airbus A320-family jets, 767-300s and 777-200s.
Lufthansa has 20 777-9s and 20 787-9s on order, and previously indicated the 787s could be deployed across the group.
Austrian acknowledges it previously reported it needed €767 million to ensure its liquidity. The carrier says that an "earlier restart of flight operations" and implementation of liquidity measures have reduced the requirement to €600 million.
The airline's approximately 7,000 employees have agreed to salary cuts totalling around €300 million, Austrian notes. Suppliers meanwhile agreed to contract reductions worth more than €150 million.
Austrian intends to restart scheduled passenger flights on 15 June. Regular services were suspended on 18 March because of the pandemic.