Lufthansa Group is aiming to offer 50% of prior-year capacity on its long-haul network and 55% on short-haul in the fourth quarter of this year.
But the German-based operator says it expects a "clearly negative" adjusted EBIT figure in the second half of the year, and therefore a "further significant decline" in this measure for the full year.
"This reflects the expectation that important long-haul routes will continue to be served only to a very limited extent due to ongoing travel restrictions," it states.
Lufthansa Group is not expecting a recovery to pre-crisis levels until 2024.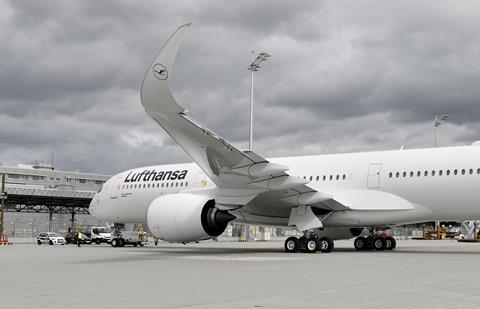 The company gave the forecast as it turned in an adjusted EBIT loss of €1.7 billion ($2 billion) for the second quarter and €2.9 billion for the first half.
It intends to lift capacity on long-haul routes to 20% of last year's figure during the third quarter and 40% on short- to medium-haul routes.
Lufthansa Group plans, by the end of this year, to be operating to 70% of its long-haul destinations by the end of the year.
But chief executive Carsten Spohr warns: "Especially for long-haul routes there will be no quick recovery."
He says the company will "not be spared" a "far-reaching restructuring". It is embarking on a corporate overhaul designated 'ReNew' which will include cutting 22,000 full-time positions across the group. Management boards will be shrunk and 20% of executives will be removed.
"[Our] objective was to avoid redundancies as far as possible," says Lufthansa Group. But given the market situation and the status of collective bargaining negotiations, it states, this ambition is "no longer realistically within reach for Germany either".
The company says it had already reduced its workforce by some 8,300 at 30 June compared with the mid-point of 2019.
Lufthansa Group's fleet will be "permanently" cut by at least 100 aircraft, and the number of air operator's certificates will be reduced to a maximum of 10. But the company plans to increase productivity 15% by 2023 to meet the traffic recovery forecast.
Its changes are intended to generate positive cash-flows during 2021.
"The pandemic offers our industry a unique opportunity to recalibrate – to question the status quo and, instead of striving for 'growth at any price', to create value in a sustainable and responsible way," says Spohr.
Revenues for the group over the second quarter fell by 80% to €1.9 billion, of which most – around €1.5 billion – was generated by Lufthansa Cargo and the maintenance operation Lufthansa Technik.