Indian Ocean carrier Maldivian is ordering three ATR turboprops, comprising two 72-600s and a 42-600, which are set to be delivered this year.
Maldivian's ATRs will be fitted with the new Pratt & Whitney Canada PW127XT engines, the development of which was unveiled at the Dubai air show last year.
The carrier has a small fleet which includes Airbus A320-family jets as well as older-variant Bombardier Dash 8 turboprops, plus Viking Air DHC-6s.
ATR says the purchase contract for the three new aircraft will enable the airline to replace ageing airframes in the turboprop fleet.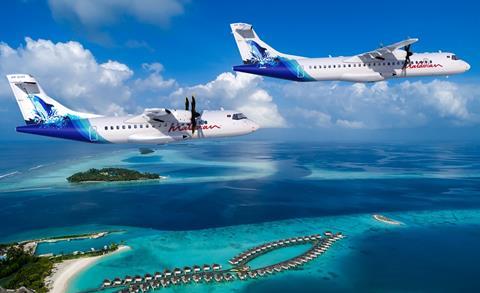 "We believe the new generation of ATR aircraft with the XT engines offers something we have been looking for in our fleet modernisation," says Maldivian managing director Mohamed Mihad.
He says the fleet replacement means the carrier is "taking a step towards sustainability while keeping an eye on the operating costs". The airline is supporting a Maldives government policy on air mobility intended to bring greater connectivity to the archipelago.
ATR expects the PW127XT powerplant to offer a 3% reduction in fuel-burn and 20% cut in maintenance costs, while being compatible with sustainable aviation fuels.
Chief executive Stefano Bortoli says the agreement is a "strong symbol" of the air transport sector's "resilience".
"Our aircraft have proven their reliability by linking up the islands of many archipelagos for almost four decades," he says. "We welcome Maldivian as a new customer."