Middle Eastern carrier Jordan Aviation is seeking to open scheduled services to the USA within the next four months.
The privately-owned airline has not detailed its intended route network.
Royal Jordanian Airlines already serves routes from Amman to New York JFK and Chicago.
While it aims to commence scheduled services by 1 April, Jordan Aviation says it plans to commence charter flights as soon as it obtains government approval.
This charter operation would primarily involve transport of people and personal protective equipment.
Jordan Aviation has filed a formal request for the services with the US Department of Transportation. It has not provided much information on the specific operation, including the aircraft types it intends to use.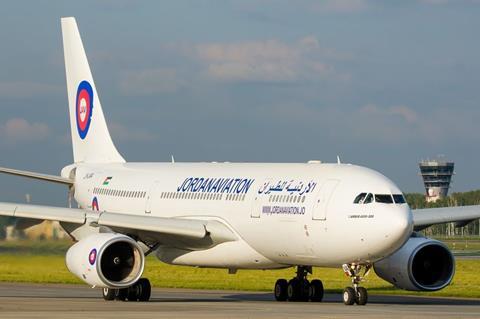 Jordan Aviation, which obtained its air operator's certificate in 2000, lists 12 aircraft in its fleet, including five long-haul jets: two Airbus A330-200s and two Boeing 767-200s, plus a 777-300 registered to Egypt's Alexandria Airlines – in which Jordan Aviation holds a 40% share.
The short-haul fleet includes five 737s – one of which is Egyptian-registered – and two A320s, while the carrier last year also indicated plans to acquire Bombardier Q400s.
Five of its 12 aircraft are owned, the others sourced from a number of lessors.
Jordan Aviation estimates it will transport around 9,600 passengers and nearly 1,600t of freight on the US routes during the first year of operations.
It serves a number of Middle Eastern routes and has also provided wet-lease capacity to other carriers. The airline says it employs about 1,000 personnel.
Jordan Aviation has not provided public financial data, requesting to US authorities that it be kept confidential.
But it states that the carrier is 44.6%-owned by an entity called Tanwee for Trade, which is owned by four individuals, two of whom own a further 38.7% in the airline. Another 5.3% is held by public shareholding firm Al Rouya for Investment.