US operator National Airlines has introduced a Boeing 747-400ERF to its fleet, an extended-range version of the high-capacity freighter.
The carrier – which is based in Orlando but operates hubs in several locations – already has six 747-400Fs, as well as Boeing 757 and Airbus A330 passenger transports.
It identifies the latest addition as MSN35237, a General Electric CF6-powered airframe originally delivered to Russian freight carrier AirBridgeCargo in 2008.
National Airlines says the 747-400ERF, with a payload capability of 128t, is a "logical choice" for long-distance cargo services.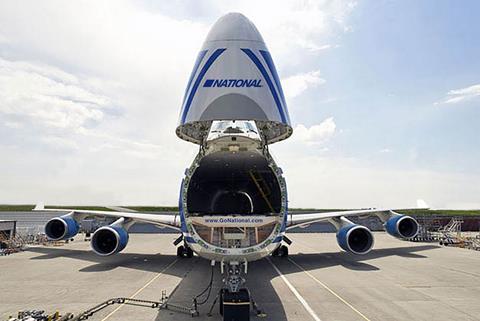 Chairman Christopher Alf says the carrier is aiming to meet "growing specialised cargo demands" by offering "newer and innovative" options.
"Introduction of the 747-400ERF aircraft is part of our greater vision to modernize our fleet and enhance our service offerings for our customers," he says.
National Airlines underlines the flexibility presented by the 747's nose-loading door, and says the aircraft is "particularly suitable" for cold-chain shipment.
It adds that it intends to add more freighters to its fleet "in the coming months".