Belarusian flag-carrier Belavia is intending to stop operations with its older-generation Boeing 737s as it looks towards taking the 737 Max.
Belavia has appointed a new general director, former marketing director Igor Cherginets, to succeed long-term airline chief Anatoly Gusarov.
Cherginets says the airline is planning to modernise with the Embraer 195-E2 and preparing to acquire the 737 Max 8 following its ungrounding by the US FAA.
"By the end of the year we plan to end the operation of Boeing [737] Classics," he states.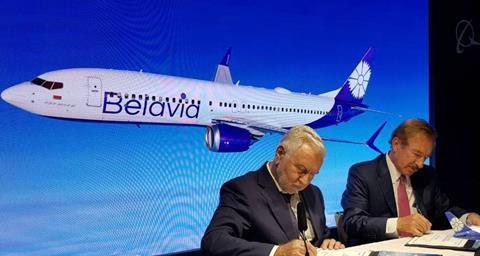 Belavia operates 737-300s and -500s, as well as the later-generation 737-800.
"Modernisation of the aircraft fleet will contribute to the expansion of the route network, the opening of new directions, and an increase in passenger traffic," says Cherginets.
He adds that, during his tenure, the airline will "pay special attention to further digitalisation and strive to implement modern world practices".
Belavia unveiled an agreement in 2018 to acquire four 737 Max 8 jets, originally aiming for delivery from lessor Air Lease over 2019-20. It stated at the time that the aircraft would be used to replace older 737s.