Ryanair has entered an exclusive agreement with Airline Flight Academy, under which the company will become the budget airline's cadet training partner in Ireland and operate a newly-inaugurated Dublin facility.
Airline Flight Academy, which already offers recruitment and training support to Ryanair, has been selected to run the new centre near Dublin airport, formally opened by Irish deputy prime minister Leo Varadkar on 14 September.
Ryanair has invested €50 million in the centre which features three full-flight simulators – one for the Boeing 737 Max and two for Airbus A320s – plus one fixed-base simulator for each type.
It also has a cabin crew training area with facilities for emergency evacuation and cabin fire training, plus classrooms and pilot briefing rooms.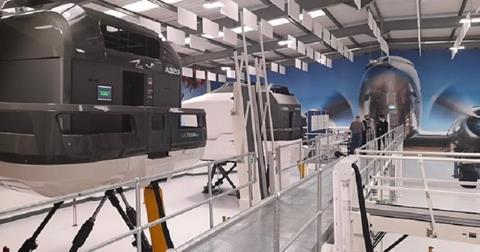 "Access to these new facilities will enable Ryanair to recruit and train over 5,000 new pilots, cabin crew, engineers and ground operations professionals over the next five years," says the budget carrier.
Ryanair has started introducing a new fleet of more than 200 737 Max jets.
It says the academy operator will be its exclusive cadet-training partner and "play a central role" in the development of Ryanair's future crewing requirements.
Speaking during the opening, Varadkar stated that the centre's creation and Ryanair's agreement were a "real vote of confidence" in the recovering airline industry.